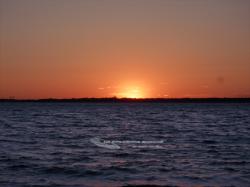 Public Observation Night
Where:

Frosty Drew Observatory

When:

Friday June 29, 2012 at 9:00 p.m.

Cost:

Free! Donations Appreciated.

Share:
All conditions seem to point to a fairly clear sky tonight, but, as this is Rhode Island, please check the sky, Frosty Drew website, or the Frosty Drew Twitter (@FrostyDrewOBSY), if conditions don't seem totally perfect. With the Moon just a couple days after 1st quarter, it is an ideal object to observe, although Saturn is still within good range of the 16-inch telescope. Sorry to say, we have no passes of the International Space Station tonight, or any Iridium flares to catch our eyes, but there's always the chance you might pick up a stray meteor flash, or perhaps even see one of the many other satellites traveling around the Earth.
Because the Moon is rather high in our sky tonight, it might interfere with your observation of the Milky Way. This band of stars that literally cuts the sky in half during the later part of the summer season is not especially bright, but in a moonless night, at Frosty Drew it is spectacular. If you live in one of our major cities, you might realize you possibly have never been able to view it, as the lights from our desires to be just as active at night than during the day cause the Milky Way to be diluted, and therefore invisible to us. If you have never been able to witness this large part of the galaxy in which we live, please keep coming to Frosty Drew, as it will be available to you several times within the next few months.
One of the reasons we are able to see this dim part of our neighborhood is because of our dark skies, helped in part by the Town's recent unanimous vote for the lighting ordinance. With this, we are able to continue our mission of dark-sky awareness. Thanks to all who were a part of this important addition to the town's natural beauty.
We also were made aware that Saturday will be a little longer than usual. At 7:59:60 P.M., there will be another second added to the day. Why that time? All time is usually coordinated with the time in Greenwich, England, and we are at this moment four hours behind the time there, so for the British, that time marks the end of their day. The reason the second is added is due to changes in our planet; its rotation is actually slowing down a tad, and every so often we must reorganize our timekeeping to compensate.-Francine Jackson-------------------------------------------------------------------------We are receiving conflicting reports regarding tonight's weather. Most forecasters are calling for mostly clear skies with one calling for a threat of T-storms. This should line us up for a good night of observation. We will be opening the 16" telescope at 9:00 with views of either Saturn and the 78% waxing gibbous Moon. Tom will have the 8" Dobsonian telescope setup in the courtyard with views of the Moon and some of his favorite binary stars.This week the Sun has been setting at its latest time for year 2012. This gives us enjoyably long summer evenings while consequently resulting in late night astronomical observing. Starting next week the sun will set earlier every night though out the rest of our Summer season as we approach the Autumn Equinox on September 22nd at 10:48 a.m. EDT. To keep informed about daily sky information and schedules visit the Frosty Drew website at
http://frostydrew.org/observatory/daily/
.Enthusiasts, tonight will not be the best night for dark sky observation with the 78% Moon accompanying us till 1:30 a.m. and the Big Apple Circus joining us in the park. If the Moon is your thing then tonight's Moon will present a good opportunity for observation. The terminator (the line that separates the dark and illuminated regions) will be in a feature rich region showing shadows that contrast the Moon's rather rigorous terrain. Tycho, Copernicus, Kepler, and Plato craters will also be quite visible. This will present some great photograph opportunities for the astro-photo-addicts if you can deal with the extra light from the circus.Tonight's temperatures will be WARM which means the mosquito feast is on. We will all play host to a buffet for the mosquitos so come prepared with closed toe shoes, pants, long sleeves and mosquito repellent.-Scott MacNeill