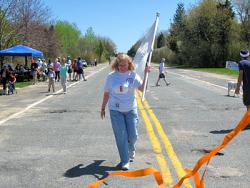 Classic 5K Run & Walk
Where:

Frosty Drew Nature Center

When:

Saturday, May 4, 2013 at 10:00 a.m.

Cost:

$18 pre-registration (before May 3), $25 at race
Frosty Drew Nature Center & Observatory held its Fourth Annual Classic 5K Run & Walk on May 4th 2013. A trail race that takes place every spring in beautiful Ninigret Park in Charlestown, the race is open to the public.
Classic 5K Preliminary Race Results for May 4 2013

Lead Sponsor South County Hospital

Registration: 10:00 a.m.–11:00 a.m.
Kids' Fun Run: 11:00 am.
5K Run & Walk: 11:15 a.m.
T-shirts for first 200 entrants
Children 10 and under free
Super Star Sponsor Eaves Devices Incorporated
Super Star Sponsor Crotty and Sons Body Works
Star Sponsor Jennifers Salon
Star Sponsor Stasiunas Construction Inc.
Star Sponsor Randall Realtors Helping Hands
Comet Sponsor Camires
Comet Sponsor Arrowhead Dental
Comet Sponsor Charlestown Mini Super
Comet Sponsor James O'Brien and family
Comet Sponsor John Ward Physical Therapy
Comet Sponsor Pier Pizza
Comet Sponsor Umbrella Factory Gardens
Supporting Sponsor Entwined A Unique Boutique
Supporting Sponsor Silk Tree Farm
Supporting Sponsor Tom Schena Music
Supporting Sponsor The Washington Trust Company
Supporting Sponsor The Bakery
Supporting Sponsor Food For Thought
The Frosty Drew Classic 5K will kick off our 30th year in Ninigret Park. The event is truly a "classic." It begins with a funny song led by race director John Varadian who tells all that they are required to sing, or at least smile, during the song. A Kids' Fun Run, a short 100-yard dash, follows. And then it's off to the races over the 5-kilometer (3.1 mile) course that winds through the scenic trails in Ninigret Park.
The course begins in front of the Frosty Drew Nature Center & Observatory; traverses the trails, back roads, and bike course of Ninigret Park, all the while showcasing the natural and entertaining treasures of the
Park; and finishes where it began. Did you know there is a disc golf course? That is what those funny cages are that you race or amble by. Did you know there was a large community garden behind the Community Center? What about a spring-fed pond? You can gaze upon its peaceful and tranquil waters as you pass. If you are not speeding by all these things too fast, you will be able to appreciate and enjoy nature on the Frosty Drew Classic 5K Run
& Walk. Come also to see the new Sky Theatre, Observatory, and Nature Center. You will be glad you did!
Last year saw a record number of participants, with many returning for the third year in a row and others joining them in competition for delicious apple pies. This year teams are encouraged to enter as well. Enter to try for
a personal best, or grab some friends or family and compete for the new team prize. T-shirts will also be offered to the first 200 entrants.
The Classic 5K Run & Walk is sponsored by many local businesses in Rhode Island and generous individuals who wish to support the Frosty Drew Nature Center & Observatory and its important, inspirational educational
mission. The purpose of the Frosty Drew 5K Classic is to raise funds so that the Frosty Drew Nature Center & Observatory can continue to provide environmental education to people of all ages and keep its observatory
open to the public free of charge on Friday nights throughout the year. The organization was established in 1982, and countless numbers of children and adults have learned from its educational offerings and gazed through its 16-inch telescope at stars, planets, and galaxies in the dark sky above. Frosty
Drew is a recognized 501(c)(3) nonprofit educational organization that has
been proudly supported by memberships, donations, and grants.
Ninigret Park is located on Rhode Island's south coast, easily found and just seconds off of U.S. Route 1 in Charlestown. Visitors to the area enjoy Charlestown's sandy beaches, its freshwater and saltwater ponds, the National Wildlife Refuge, and much more. Attractions in Newport, RI, and Mystic, CT, are nearby, and Charlestown is just 45 minutes south of Providence, RI. Visit South County Tourism Council for information about the
area.