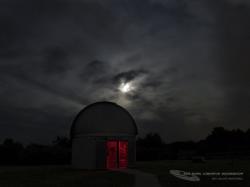 Public Observation Night
Where:

Frosty Drew Observatory

When:

Friday July 6, 2012 at 9:00 p.m.

Cost:

Free! Donations Appreciated.

Share:
As ever, we'd like to hope that sky conditions at Frosty Drew will be great for tonight, but, this is Rhode island, so please check your sky and follow @FrostyDrewOBSY on Twitter to be sure. The Moon, which was full just a few days ago, won't be a part of the night sky until later in the evening, but Saturn is still a beautiful sight, and Mars is in the sky, but it is moving away from the Earth and will not show itself off as well as it did earlier this year.
Although we don't normally mention the early morning sky, if you are able to look out a little after 4:00 A.M., there's a beautiful sight waiting for you just above the eastern horizon. Venus is its brilliant self, with Jupiter right above it, and if you look closely, just above Jupiter is the open star cluster the Pleiades. Also, to give you an idea of how bright these two planets are, directly below Venus is one of our brightest stars, Aldebaran, the eye of Taurus, the Bull. See if you can locate it. Also, because Venus is closer to the Sun than the Earth, it moves rather fast from our viewpoint, so keep watching this morning scene as the week continues.
For us evening observers, the Milky Way is rising earlier each night. It seems to be surrounded by a huge right triangle, aptly called the Summer Triangle, as the higher it is in the sky, the hotter the summer weather. This triangle is made up of stars which are the brightest in their individual constellation: Vega, at the 90 degree angle, belonging to Lyra, the Harp; Altair, the beak of Aquila, the Eagle, found below Vega; and Deneb, to the left, or east of Vega, considered the tail feathers of Cygnus, the Swan. Also, Vega and Altair are considered the lovers in a beautiful Asian legend, Tanabata, which is celebrated each July 7th. They fell so much in love that they did not do their respective work, causing them to be separated by a river represented by the Milky Way. The Tanabata is the only day they are allowed to be together, but only if the weather is beautiful; otherwise, they must wait another year.
Everyone at Frosty Drew is ramping up for our major fund-raiser: Sea Star. This celebration of local artisans is to take place Saturday, July 28th. For more information, or if you would like to be a part of this day, please visit the
Sea Star Marketplace
page at. For us at the observatory, we value the opportunity to continue our mission of dark-sky awareness, and this is one way to keep our doors open.-Francine Jackson-------------------------------------------------------------------------Tonight's weather forecast is calling for partly cloudy skies with the chance for fog after midnight. The 90% waning gibbous Moon will rise shortly after 10:00 p.m. and offer a great naked eye and binocular view as it rises over our eastern tree line. We will open our 16" telescope at 9:00 if the skies are clear enough and begin our observing session with Saturn. Tonight Saturn will be visible at dusk and will be showing off its bright rings and up to 5 of its 62 moons. If skies permit we can begin observing the Moon around 11:00. Tonight's Moon will feature all the most popular craters (Tycho, Gassendi, Copernicus, Kepler, and Plato).This past week, the fourth of July actually, was the Earth's furthest point from the Sun for this year. This is called "Aphelion". On July 4th we were roughly 94,510,232 miles from our nearest star in contrast to January 4th when Earth was at perihelion (our closest point to the Sun) at roughly 91,406,283 miles. About a 7% difference. It is strange to think that our nearest point to the Sun is during the coldest time of the year and our furthest point from the Sun is during the hottest time of the year. Our seasons are governed by the axial tilt of Earth and in July we are tilted toward the Sun giving us much more direct sunlight vs January when we are tilted away from the Sun resulting in less direct sunlight.Keep your eyes up this month as we move further into summer. The Milky Way overhead is the brightest during the month of July and will offer many fantastic observing opportunities in Charlestown or other dark sky locations. If you have a chance to observe the Milky Way, use a pair of binoculars and sweep along the visible regions of the Milky Way. You will be mesmerized at all the wonderful nebulae and star clusters that are easily visible. When looking at the Milky Way naked eye, remember that you are viewing a galaxy on edge from an insiders perspective.Tonight will not be a night for dark sky enthusiasts with the bright Moon rising at 10:10 and the Big Apple Circus in the park. If the Moon is your thing, tonight will present OK viewing and many photographic opportunities. The Moon and the circus will not effect viewing of Mars and Saturn. If astro-photography geekness is your thing make sure you get your shots of these two planets soon before they set for the year. When visiting tonight prepare for mosquitoes; closed toe shoes, long sleeves, and pants are a necessity.-Scott MacNeill