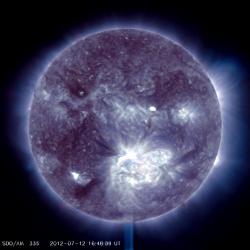 Public Observation Night
Where:

Frosty Drew Observatory

When:

Friday July 13, 2012 at 8:45 p.m.

Cost:

Free! Donations Appreciated.

Share:
Sky conditions don't look the best for this evening at Frosty Drew, but keep looking up and checking the Frosty Drew Twitter (
@FrostyDrewOBSY
) just in case; after all, this is Rhode Island. If there is a clearing later this evening, we do have an Iridium flare appearing in the sky at 11:18 P.M., about a third of the way above the west-southwestern horizon. Also, tomorrow, there will be two very bright appearances, the first about one third above the east-southeast at 3:58 A.M., and another at 11:12 P.M. tomorrow night, about 26 degrees above the west-southwest.
If skies are clear early in the morning and you are already outside watching for the flare of Iridium Satellite #8, don't pass up the elegance of the positioning of our two brightest planets, Venus – the brighter and lower one – and Jupiter. They have been forming differing patterns with the brightest star in the constellation they both appear to be within right now, Aldebaran, in Taurus, the Bull. This weekend, however, the planets will be joined by the waning crescent Moon, giving even more beauty to this part of the morning eastern horizon. Also, with the Moon in a very small crescent shape, it will be very easy for you to see the phenomenon Earthshine, the Sun's light reflected off the Earth and striking the dark part of the Moon, giving a ghostly appearance to what we shouldn't be able to see – the large section of the Moon not being lit directly by the Sun. Enjoy this for the next few days, as the Moon becomes less and less lit, on its to its New phase Thursday morning.
In the evening, Both Mars and Saturn are now within the constellation Virgo. Saturn is still very close to Virgo's brightest star, Spica. Mars, because it's our closest outer planet, will be seen to move slightly to the left, or east, each evening, getting closer to Saturn as the month continues. Keep watching the two planets, and you might notice they both are slightly dimming, Mars a bit more so than Saturn.
We at Frosty Drew Observatory are grateful to the Charlestown Council for their recent unanimous vote on the lighting ordinance. This will allow us to be able to continue our mission of dark-sky education, as we can still proudly state we have the darkest skies in Rhode Island.-Francine Jackson-------------------------------------------------------------------------Tonight's weather forecast (*again) is calling for mostly cloudy skies. We will closely monitor the skies and open at 9:00 p.m. if weather permits. The 27% waning crescent Moon will be rising about 1:45 a.m. which will give us dark skies as we leave astronomical twilight around 10:20 p.m.Yesterday, the massive sunspot 1520 blasted a huge X-1.4 flare and CME (Coronal Mass Ejection, aka solar plasma) towards Earth. The CME will impact Earth's atmosphere early tomorrow morning creating a Geomagnetic storm that could produce fantastic Aurora's as far south as Alabama! Keep your eyes to the sky tonight and Saturday night, if we get a break in the clouds you may catch a beautiful glimpse of the Northern Lights.July is the best month of the year for viewing the Milky Way from our part of the globe. If a clear night swings our way over the next few weeks trek out before the Moon rises or after the Moon sets (later this month) to a dark sky location to be mesmerized by the beautiful galaxy that we live in. If you have binoculars be sure to bring them with you to aide in viewing all the fantastic nebulae and star clusters visible in the Milky Way.Before taking the stroll out to Frosty Drew tonight, be sure to check our website or Twitter (
@FrostyDrewOBSY
) to confirm if we are opening. The clouds these past few Fridays have been relentless. If you decide to visit, be sure to dress for mosquitoes. Closed toe shoes, pants, and long sleeve shirts are a necessity.Today is Friday the 13th and this Friday the 13th brings an interesting coincidence; 13 weeks ago was Friday, April 13th and 13 weeks before that was Friday, January 13th.-Scott MacNeill