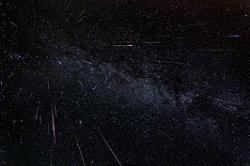 Under Perseid Skies: CANCELLED
Where:

Frosty Drew Observatory & Sky Theatre

When:

Saturday August 11, 2012 8:00 p.m. till Dawn

Cost:

Free! Donations GREATLY needed and appreciated!

Share:
NOTE: This event has been cancelled due to the usual New England forecast of clouds, rain, and thunderstorms. Lets hope for a change in sky viewing conditions soon!The early morning of August 12th, 2012 the Perseid meteor shower will peak with up to 90 meteors per hour. The Perseids are considered by many to be the best meteor shower of the year. With the 24% waning crescent Moon rising shortly after 1:00 a.m. we can expect beautiful meteor viewing conditions. Perseids will start appearing more frequently as midnight approaches, and will peak in the early morning hours of August 12th just before dawn.Join Frosty Drew astronomers at the Observatory on August 11 and 12, 2012 weather permitting to witness this spectacular event. We will have the 16" telescope open to the public from 8:00 p.m. - 11:00 p.m. and smaller telescopes available throughout the night with some great views of the Moon, Jupiter, and a host of deep sky objects. From 8:00 p.m. - 9:00 p.m. visit the Sky Theater to learn from Francine Jackson about the origins of the Perseid shower.Bring your friends and family. Break out your lawn chairs and blankets, *binoculars and telescopes. Sit under the beautifully clear dark skies of Charlestown, Rhode Island and have a night out on the Perseids!See you under Perseid skies!*Binoculars and telescopes are welcome but are not needed to view the meteor shower.