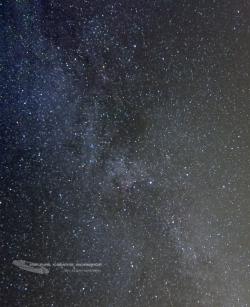 Public Observation Night
Where:

Frosty Drew Observatory

When:

Friday September 21, 2012 at 7:30 p.m.

Cost:

Free! Donations Appreciated.

Share:
The weather doesn't look the best for this weekend, but regardless of sky conditions, please come down to Frosty Drew this Friday and Saturday, as we are celebrating, with hundreds of other observatories around the world, the International Observe the Moon Night. Now, officially, the actual date is Saturday, but we are fortunate right now to have the NASA Moon sample disks, and we'd like for as many people as possible to observe pieces of our nearest neighbor obtained from the last two Apollo expeditions in the early 1970s. We also have a disk containing examples of meteorites that have landed here on Earth, so please come to see pieces of outer space. In addition, tonight and tomorrow we will have a video of close-up Moon images from some of the latest orbiters to travel there, and demonstrations of how the Moon revolves around the Earth. Tonight, the observatory will be open, sky willing, for viewing of the almost 1st quarter Moon.
Also, tomorrow night, we are pleased to have with us storyteller Thawn Harris, who will introduce the sky with legends you might never have heard. He will be speaking for us in the Sky Theatre beginning at 7:30 P.M. And, because we'd like for all of you to hear the beautiful stories of our celestial sphere, the observatory will be closed during his performance. It will then open for views of what will have become the 1st quarter Moon, as it will reach this phase tomorrow afternoon at 3:41 P.M.
Tomorrow, also, Ninigret Park will be celebrating the beginning of the new season of autumn, with their Harvest Festival running from 10:00 A.M. to 6:00 P.M. Come early and enjoy a day in the beautiful Park! And, then, when things start to wane, come to Frosty Drew and celebrate our only known natural satellite, the Moon.
Today is the last day of the season of summer. At 10:47 A.M. tomorrow morning, the Sun, which travels along its path across the sky – the ecliptic – will cross the celestial equator. For us, that means several things: First, autumn begins tomorrow; also, the Sun will rise exactly in the east and set precisely in the west; and also, our daylight hours will now begin to become much shorter for the next several months, as we now look forward to the colder weather that will be arriving sooner than we expect.
We are grateful to the Charlestown Police Department who, without their cooperation, we would not be able to have our Moon and meteorite samples for view.-Francine Jackson-------------------------------------------------------------------------Tonight's weather forecast is quite variable based on the forecasting source. The general outlook for tonight is a few clouds with a high probability of fog. These conditions will hinder deep sky object observation if they are prevalent. Though observation of the 38% waxing crescent Moon will be possible through light fog and broken clouds. The observatory will open shortly after 7:30 p.m. tonight with views of the Moon. Later in the night, if skies remain clear, we will take a closer look at Uranus, Jupiter and a host of binary stars.Tomorrow starting at 10:00 A.M. The Charlestown Community Garden is celebrating their harvest at the Harvest Festival in Ninigret Park. During the Harvest Festival, Frosty Drew Observatory will be offering projected views of the Sun (weather permitting). After which we will be hosting our third International Observe the Moon Night. Be sure to spend your first day of Fall in Ninigret Park then head over to Frosty Drew at sunset for some spectacular views of the Moon. Admission to the Harvest Festival is $5.00 for adults and free for children under 12 accompanying an adult. Admission to Frosty Drew Observatory is free as usual. Visit the
Charlestown Community Garden website
for more information.Happy last day of Summer!-Scott MacNeill