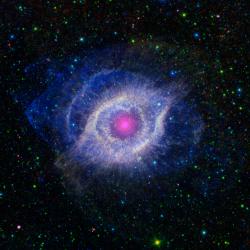 URI Planetarium Showing of 'Cosmic Colors'
Where:

URI Planetarium at URI Kingston Campus

When:

Friday, March 8, 2013 at 6:00 p.m.

Cost:

$5.00

Share:
Frosty Drew Observatory and URI will be presenting the planetarium showing of "Cosmic Colors". Embark wondrous journey across the entire electromagnetic spectrum. Discover the many reasons for color—like why the sky is blue and why Mars is red. Take a tour within a plant leaf and journey inside the human eye. Investigate x-rays by voyaging to a monstrous black hole and then back at your doctor's office. You will even see the actual color of a dinosaur--based on recent evidence. Get ready for an amazing adventure under a rainbow of cosmic light!
Admission, to benefit both the Frosty Drew and URI Planetarium funds, is only $5.00. After the show, we invite you to Frosty Drew, weather permitting, to enjoy the beauty of the darkest skies in Rhode Island.
The URI Planetarium is located at the URI Kingston Campus Upper College Road, building 76 Kingston, RI 02881 (Directions)