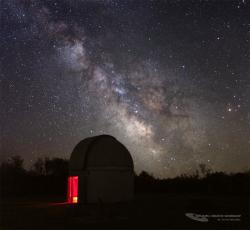 Public Stargazing
Where:

Frosty Drew Observatory

When:

Friday March 8, 2013 at 6:30 p.m.

Cost:

Free! Donations Appreciated.

Share:
As usual, we really have no way to determine if tonight's weather will clear, allowing us to open for the evening. The best way to learn would be to check the @FrostyDrewOBSY Twitter or our website, as we do go to the observatory just in case. After all, this is New England, and we've been surprised by changes in the sky more than once. If, by chance, the night does clear, we will do our best to locate Comet PanSTARRS, a comet that is, at this moment, at our naked-sky seeing; unfortunately, it isn't in the best position to observe, but, when a comet does become able to be seen, we will try to track it as well as possible.
If the skies do stay cloudy, but you'd like to learn about a fascinating aspect of our world, come to the URI Planetarium, on the Kingston campus. At 6:00 P.M., we will be showing Cosmic Colors, a beautiful program showing where color originates, and how it is a part of the larger Electromagnetic Spectrum. This presentation, make for the general public, is only $5.00 per person, to benefit both the Frosty Drew and URI Planetarium funds. It will be followed by a short Skies of Frosty Drew, then, if the skies do clear, everyone is invited to the Observatory in Ninigret Park.
Don't forget this weekend to set your clocks ahead one hour. This is done to give more light at the end of the day, something astronomers have to think twice about. This means that, as of Friday, March 15th, we will be opening later, as sunset will be happening later. To get us into the feeling of this, we will be showing our award-winning The City Dark in the Drew Sky Theatre, beginning at 6:00 P.M. This introduces the problems of over lighting, not only for observing purposes, but as it relates to animal habits and our health. This program will be free, and, of course, afterwards, if the sky is clear, there will be observing across the street.
Frosty Drew is privileged to be located at the darkest skies in Rhode Island. Thanks to all who help keep them that way.
-Francine Jackson
-------------------------------------------------------------------------
Tonight's forecast is calling for clouds, showers, and high winds. This will likely keep the observatory closed. Though you can still get your astronomy fix on at the URI Planetarium for the Frosty Drew Observatory / URI presentation of Cosmic Colors at 6:00.
This week, if the New England skies will allow, we will have our first opportunity to view comet PanSTARRS. Last night (March 7) was the first night for a potential siting of the faint but easy naked eye target. To spot comet PanSTARRS look to the west about 30 minutes after sunset. As we continue through March the comet will appear higher in the sky every night. March 12 will be a particularly good night to view the comet as it will appear close to the 1% waning crescent Moon. This will also present a great photo opportunity for those into shooting the night sky. If anybody snaps a photo of the comet, be sure to post on the Frosty Drew Observatory facebook page and we will share it on our time-line.
On Mars, the Curiosity Mars Science Lab rover has been temporarily shut down by NASA as a precautionary measure in light of a large solar storm that is predicted to hit Mars beginning on March 7. Since Mars lacks a magnetic field, the surface is largely unprotected from bombardment of solar radiation which could disrupt computer operations on the Curiosity rover. Good luck with weathering out the storm Curiosity!
-Scott MacNeill