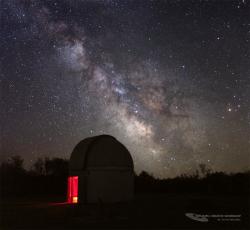 Public Stargazing
Where:

Frosty Drew Observatory

When:

Friday March 22, 2013 at 7:30 p.m.

Cost:

Free! Donations Appreciated.

Share:
Quite honestly, this year we can never state definitely whether Frosty Drew Observatory will open until we actually arrive there on Friday evenings, as the weather has been so variable, we really aren't sure of sky conditions until we look up for ourselves, then, sometimes wait awhile. But, if conditions are rather good, to confirm, please check the Frosty Drew Twitter, then come after sunset, as the recent Daylight Saving Time change has sunset arriving after 7:30 P.M. If clear, the Moon will be in its gibbous phase, plus the planet Jupiter is still in our sky, and, we do have Comet PanSTARRS which, although it isn't as brilliant as originally believed, still is a visitor from the farthest region of our solar system and definitely worthy of observing.

Despite the fact that we're still having snow showers, Wednesday marked the beginning of the season of spring. Remember: Seasons aren't a factor of the weather, but of the position of the Sun in its apparent path across the sky. At 7:01 A.M. Wednesday, the Sun, which travels along the ecliptic, intersected another apparent line in the sky, the celestial equator. This point, called the vernal equinox, has the Sun rising exactly in the direction of east. Now, if you keep watching the Sun rise in the mornings (or set in the evenings), it will rise north of east (and set north of west) for the next six months. Keep watching it as appears in different parts of your horizon as the months go on.

Several persons enjoyed the presentation of The City Dark last week, a program introducing light trespass and its interactions with not only sky observing, but nature and humanity. If anyone knows of an organization that would be interested in viewing this award-winning movie, please contact us at astronomer@frostydrew.org. There is no charge for this, and we welcome any opportunity to show this to organizations of all kinds.

Frosty Drew is proud to be located in the darkest town in Rhode Island. We appreciate everyone's efforts to continue to keep our skies dark.
-Francine Jackson
-------------------------------------------------------------------------
Tonight's forecast is calling for partly cloudy skies early in the evening becoming clear overnight with a bit of wind. The 77% waxing gibbous Moon will be with us until 3:17 a.m and will surely offer fantastic views of the lunar surface but will also make observation of faint nebulae and galaxies difficult. We plan to open the observatory shortly after 7:30 starting with views of the Moon and Jupiter if the skies and wind permits.
Comet PanSTARRS has been all the rage lately in the northern hemisphere with spectacular new photos showing up every day. In New England, views of PanSTARRS have been quite limited by the infamous cloudy skies which plague resident sky watchers. Regardless, the comet has been putting on quite a show. PanSTARRS has started to dim as it moves farther away from the sun, but do not let this deter your spotting efforts. As PanSTARRS moves away from the sun it also stays above the horizon longer after sunset, placing it into darker skies. There have been naked eye sightings in Rhode Island and I believe these will continue for the next week or so. If you haven't done so already, find a spot with a good view of the western horizon (Point Judith, RI has worked well for me) and attempt a spotting about 20 minutes after sunset. I have noticed that the comet becomes visible usually around the same time the brighter stars in the constellation Orion become visible. Bring binoculars as they will greatly increase your chances of seeing the comet. Happy comet hunting.
With the increasing cloudy skies we have been experiencing in Rhode Island, astronomical observation has become more of a fable than an activity. At Frosty Drew Observatory we have been somewhat lucky with a few surprise clear nights when forecasts said the opposite. Other observatories in Rhode Island have not been so lucky. Ladd Observatory has not had one full night of public observation since returning from Christmas break. With numbers like this a good fallback schedule is key. Aside from the Rhode Island skies, the Rhode Island community has a lot of offer in terms of public observation. Tuesday nights from 8-10 Ladd Observatory at Brown University opens to the public, Wednesday nights from 5-9 Margaret M. Jacoby Observatory at CCRI in Warwick is open to the public, Friday nights be sure to visit Frosty Drew Observatory (woot!), and Saturday nights from 8-10 Seagrave Memorial Observatory in N. Scituate is open to the public. Be sure to check out these other fine observatories to get your astronomy fix on.
-Scott MacNeill