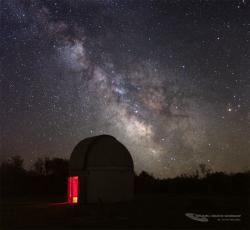 Public Stargazing
Where:

Frosty Drew Observatory

When:

Friday March 29, 2013 at 7:30 p.m.

Cost:

Free! Donations Appreciated.

Share:
This has been one of the more impossible years to definitely predict whether the observatory will be open. The weather has been very difficult to keep up with, so your best bet is to check the Frosty Drew Observatory Twitter to determine what will happen. If the night is clear, we will be opening the dome about 7:30 P.M., as darkness comes late with Daylight Saving Time in effect. Among the objects to view will be the planet Jupiter, but the brightness of the just beyond Full Moon will make some of our deep-sky objects hard to see. We also, clear skies permitting, have an Iridium flare brightening the southeast sky at 8:14 P.M., but, unfortunately, no International Space Station passes to look forward to.

Thanks to all who came to the University of Rhode Island Planetarium show several weeks ago. We really hope you enjoyed yourself, and are ready for another program. This time it will be on the space craft IBEX, which is looking for the edge of our solar system, a very relevant topic right now, as the news lately has been on the Voyager crafts, which were launched from Cape Canaveral in 1977 and sent back very important information on our outer planets, Jupiter, Saturn, Uranus and Neptune. The Voyagers are traveling so fast that it is believed they are just about where we believe our neighborhood ends. Admission, to benefit both the URI and Frosty Drew memorial funds, is only $5.00. Doors will open at 5:30 P.M., and the show will begin at 6:00.

We want to remind you that two of Frosty Drew's most important fund-raisers is coming up very soon. Our 4th annual 5K race is scheduled for Saturday, May 4th. Winners get to take home apple pies. What other incentive can you have? Also, the Sea Star Marketplace is coming in late July. We'll have much more on these in the coming weeks, but they are both a great reason to come to Ninigret Park.

Frosty Drew is fortunate to be located at the darkest skies in Rhode Island. Thanks to all who help keep them as dark as possible.
-Francine Jackson
-------------------------------------------------------------------------
Tonight's forecast is calling for mostly cloudy skies. The 94% waning gibbous moon will rise at 10:12 p.m. offering us a short window of dark skies after twilight. We will attempt to open the Observatory shortly after 7:30 with views of comet PanSTARRS and Jupiter if the weather permits. Comet PanSTARRS, which has been dimming significantly, has been a no-show in the observatory telescopes due to excessive New England cloud cover and will likely be thwarted tonight as well.
Monday, April 1 marks the start of Global Astronomy Month 2013 (GAM). GAM, which comes every April, is the world's largest global celebration of astronomy. Be sure to check up with Frosty Drew Observatory and other astronomical websites for special events and opportunities to get involved with the sky and astronomical science this month. For all the night photography and astro-photography geeks reading, TWAN (The World At Night) is hosting the fourth International Earth and Sky Photo Contest in support of GAM. Be sure to enter your best photos.
If tonight's weather zings our view of the sky, be sure to stop in at Seagrave Memorial Observatory in North Scituate, Rhode Island tomorrow night. The weather looks spectacular tomorrow night and if the skies can stay as predicted, Seagrave will have beautiful views of the night sky. Additionally, if you cannot make it out to Seagrave, surely make an attempt at viewing, or better yet, photographing comet PanSTARRS. If anybody gets a shot of the comet or the night sky for that matter, post it on the Frosty Drew Observatory Facebook and we will share it on our time line.
Welcome Global Astronomy Month 2013!
-Scott MacNeill