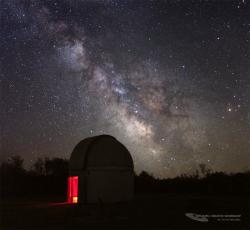 Public Stargazing
Where:

Frosty Drew Observatory

When:

Friday April 5, 2013 at 7:00 p.m.

Cost:

Free! Donations Appreciated.

Share:
We'll never understand why the New England weather makes coming to a decision on Friday night observing so hard, so, for tonight, keep looking up and/or checking the Frosty Drew Observatory Twitter to see if the observatory will be able to open. Jupiter is still in the sky, but as it is within the winter constellation region of the sky, won't be with us too much longer; however, much later in the evening, Saturn will be very low in the east, although in the trees for awhile. The Moon is on its way to its new phase next week, so it won't be a part of our evening skies. However, we do seem to have an Iridium flare which, although it will be appearing just after sunset, is supposed to be bright enough to be seen at that time, 7:41 P.M. These have disappointed us other nights, but, if the skies are clear, we will try to locate it.

Next Friday, at 6:00 P.M., join us at the University of Rhode Island Planetarium. Our feature will be IBEX, the satellite that is attempting to locate the actual end of our solar system. Admission is only $5.00 per person, to benefit both the Frosty Drew and Planetarium funds, and each person will receive a picture of the space craft, to thank you for coming and hopefully enjoying the university's cute little planetarium facility. Afterwards, we'll check out the "Skies of Frosty Drew," and, if clear, you are all invited to go down to Ninigret Park to enjoy the real sky. The planetarium is on Upper College Road, at the corner of Engineering Row.

Coming up soon is the Frosty Drew Annual 5K. On Saturday, May 4th, we invite you all to come and walk or run around beautiful Ninigret Park. You will see parts of the park not often viewed by the typical visitor, as well as learn where the Frisbee golf course is, where the bike trail leads, and see some of what was originally parts of the old Naval base. There is also kids' runs, chances for homemade apple pies and other prizes, and T-shirts for the first 200 entrants. Come join us for a morning of fun! For more information, or to register, please check the website.

Frosty Drew Observatory is located at the darkest skies in Rhode Island. Please help us continue to keep them as dark as possible.
-Francine Jackson
-------------------------------------------------------------------------
Tonight's forecast is calling for mostly clear skies with one (very unreliable) source calling for cloudy skies. The 15% waning crescent Moon will rise about 4:10 a.m. offering us very dark skies for deep sky observation. This all sounds great until the wind report came in. We can expect winds upward of 17mph slowly decreasing after midnight. Winds over 12mph will usually keep the observatory closed. We will closely monitor wind conditions from the Observatory and attempt an opening at 8:00. We will begin our session with an observation of comet PanSTARRS and Jupiter with a host of nebulae, and galaxies on the list later in the night.
Comet PanSTARRS has been fading significantly in the past couple weeks though it has moved higher off the horizon and into darker skies. We had great success last weekend at the Observatory with observations of the comet in our primary 16" telescope and portable 8" Newtonian. Even though comet PanSTARRS continues to fade, I believe we will have good twilight observations of the comet over the next few weeks. With a backyard telescope, comet PanSTARRS can be easily viewed about 45 minutes after sunset.
Today marks the start of International Dark Sky Week (IDSW). IDSW started in 2003 with the goal of raising awareness of poor-quality lighting and the detrimental effects it has on our night sky, nature, finances, and health. In light of IDSW we will be showing The City Dark tonight in the Sky Theatre at 7:00. The City Dark, winner of the Yale Environmental Film Festival, focuses on the what light pollution does to our natural habitat and ways to illuminate the wasteful effects of poorly designed lighting. Be sure to stop in at the Frosty Drew Sky Theatre for the showing of The City Dark. Then visit Globe At Night and get involved with this fantastic citizen science project that is documenting light pollution on planet Earth.
Almost two thirds of the worlds population and 99% of people in the continental U.S.A. never see a truly dark starry sky from their homes because of light pollution. This desensitizes our curiosity of the cosmos, a curiosity that our children may never experience. We can change that! Visit the International Dark Sky Association and make the change to cost-effective, dark sky friendly lighting today and help bring back the beautiful view we have from planet Earth.
-Scott MacNeill