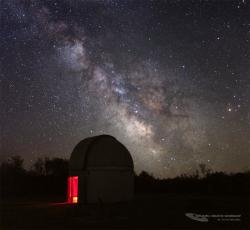 Public Stargazing
Where:

Frosty Drew Observatory

When:

Friday May 3, 2013 at 8:30 p.m.

Cost:

Free! Donations Appreciated.

Share:
As of this afternoon, skies for Frosty drew still look fairly good, so it is likely the telescope will be open for observing tonight. Remember, though: Because sunset occurs rather late, the opening is rather late, after 8:30 P.M. Jupiter will be a good target for early evening, but it is setting with the rest of the winter sky earlier each night, and will soon be out of reach of the observatory. Saturn, though, is beautiful, and does rise early enough to take Jupiter's place as the planet of the night. The Moon, which is on its way to next week's new phase, will not be in our sky, which would allow Scott to scan the northern part of our sky for Comet PANSTARRS without the excess moonlight, which, although it is rather dim, still has that distinct comet appearance of a bright head and wispy tail. Unfortunately, there are no Space Station passes tonight.
Don't forget to get your running shoes ready for Saturday's Frosty Drew's 4th Annual 5K run/walk around beautiful Ninigret Park. Not only will you view parts of the park that you normally don't see when you visit, but winners are competing for pies. Along with the main event, there are fun runs for kids, and sing-alongs with John Veradian before the 11:00 A.M. starting time. Come join us for this great annual event.
Also, if you'd always wanted to learn more about astronomy, your chance is here beginning Saturday, May 11th, and continuing the 18th and June 1st. For two hours each Saturday, beginning at 2:00 P.M., you will learn about stars, galaxies, planets, and the early ideas of our universe. For more information, please consult the website, or call Frosty Drew at 401.364.9508.
The monthly URI/ Frosty Drew planetarium program next Friday, May 10th, will be a play on the famous Dr. Philip Morrison short, "Powers of 10." First aired in 1977, this masterpiece of the very big and the very small is still worth watching; also, URI Lab Manager Steve Pellegrino added backdrop images to the original, making for a totally different look to this program. Admission is only $5.00, to benefit both the Frosty Drew and URI Planetarium funds, and will be shown at 6:00 and 7:00 P.M. The planetarium is located on the corner of Upper College Road and Engineering Row. Hope to see you then.
Frosty Drew Observatory is proud to be located at the darkest skies in Rhode Island. Please help us to keep the skies as dark as possible.
-Francine Jackson

-------------------------------------------------------------------------

Tonight's forecast is calling for mostly clear to partly cloudy skies with a persistent breeze. The 28% waning crescent Moon will not rise until 2:24 a.m. giving us a great opportunity to view many faint deep sky objects. We will open the observatory telescopes tonight at 8:30 with views of either Jupiter or Saturn. Later in the night, if skies permit, we will turn our telescopes towards some of the many galaxies visible this month. If skies hold out, midnight will bring the summer milky way on our eastern horizon which will become very visible shortly after. Tonight could be a fantastic night!

May is here and May is galaxy month! During the month of May the Virgo Galaxy Cluster can be found high in our skies and in a very visible spot for observation. The Virgo Galaxy Cluster is a huge cluster of 1300 – 2000 galaxies which make up the heart of the Virgo Supercluster. The center of the cluster lies a mere 54 million light years away from Earth. The Local Group, which is home to the Milky Way galaxy, is part of the Virgo Supercluster making this region the center of the observable universe. When looking to the sky, you can find the Virgo Cluster between the bright star Denebola in Leo and the slightly dimmer Vindemiatrix in Virgo. On a clear, moonless night setup your telescope and pan around this area of the sky to catch dozens of galaxies passing by your view.

This weekend is the peak of the Eta Aquarid meteor shower. Early Sunday morning before dawn, meteors will streak across our skies. These meteors are left over debris from Halley's Comet and can light up our skies with up-to 10 meteors per hour with a small possibility for significantly higher rates. The Eta Aquarids are a fantastic meteor shower for those who live in the southern hemisphere surely ranking among the top meteor showers of the year. This year, viewing conditions are favorable. The 19% waning crescent Moon will rise at 3:15 a.m. and will not hinder meteor viewing but will offer a beautiful view of the thin crescent with Earthshine easily visible. The weather also looks to be spectacular. Be sure to make it a priority to step out and view a few Eta Aquarid meteors Sunday morning!

Here is a call to action for all the night photographers in the area. The summer milky, made up of the Sagittarius arm and center of the Milky Way galaxy, has moved into a very visible position after midnight and will be rising earlier every night. The summer Milky Way is a fantastic target for night photographers with its vast dusk lanes, bright nebulae, and endless stars. To photograph the Milky Way you will need a very dark location largely free of light pollution, excessive trees, and moonlight. Ninigret Park, where Frosty Drew Observatory calls home, is one such location. Stop in tonight after midnight for a sampling of the views we have at Frosty Drew Observatory.

Tonight could be a clear, moonless night. Follow us on Twitte for on site updates on the sky conditions. Tomorrow could be a clear, moonless night with meteors and milky way. That sounds like a night photographers fix of the year!

-Scott MacNeill