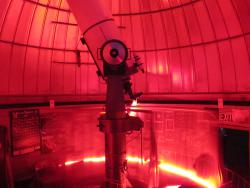 Public Observation Night
Where:

Frosty Drew Observatory

When:

Friday June 15, 2012 at 8:45 p.m.

Cost:

Free! Donations Appreciated.

Share:
View Log Entry from Last Nights Observing Session
Sky conditions actually look very good for Charlestown this evening, so it appears the observatory will be open. Both Mars and Saturn are well placed, and, possibly, later in the night, as there is no Moon right now – it's on its way to new phase – perhaps some deep sky objects will be featured.
Also, there are two passes of our International Space Station: The first, appearing in the northwest at 9:09, will travel to the north-northeast, leaving our sky about 9:12. The second, beginning at 10:46, will come from the north-northwest, rise to about 20 degrees above the north-northeast horizon, where it will disappear about 10:50. In addition, Iridium satellite #41 will flare about halfway above the northeast horizon at 10:35.
On the URI campus, the planetarium will show Dawn of the Space Age, a fascinating history of space flight, from Sputnik to the hoped-for future. Admission for this show, considered one of the best ever produced, is only $5.00, to benefit both Frosty Drew and the Planetarium Fund. Afterwards, there will still be a lot of time to travel to Frosty Drew and enjoy the beauty of our night sky.
The new season, summer, begins this coming Wednesday, June 20th, at 7:07 P.M.
Our thanks go to the Charlestown Town Council for unanimously approving the town's lighting ordinance. As we are privileged to be located in this town, having the best night sky in the state, we are grateful that our mission of science education can continue. Also, thanks go to all of you who took the time to send notes to the town council, showing your support.-Francine Jackson-------------------------------------------------------------------------Tonight's sky looks fantastic! All weather forecasts are calling for clear skies with low winds. Additionally, the 14% waning crescent Moon will not rise till 2:30 a.m. This is lining up tonight to most likely be the best night of the year so far, Wahoo!! If you have been thinking about coming out to Frosty Drew Observatory, tonight is the night to do it. We will begin our observation session on the 16" telescope with Saturn. Tom on the 8" Dobsonian will be showing off a host of deep sky objects in the court yard. As the later hours creep in we will swing our telescopes to the East -> South Eat and check out some beautiful nebulae and star clusters. At 11:00 p.m. the Milky Way galaxy should become quite visible over the South Eastern tree line. For those who have not seen the Milky Way at Frosty Drew, it is a site to see and tonight will be the night to see it!Charlestown finally has it's own lighting ordinance! Much thanks to everybody who helped make this an awesome reality. This lighting ordinance will help reclaim much of the dark skies that Charlestown has slowly been losing and help keep the remaining dark skies around. Way to go Charlestown!If venturing out to Frosty Drew tonight, be wary of mosquitoes. They WILL be out in abundance so come prepared with long sleeves, pants, and closed toe shoes. Lets hope the skies stay clear.Enthusiasts, this is your note. Tonight is the night to come out if you can deal with a 2:30 a.m. 14% Moon.-Scott MacNeill