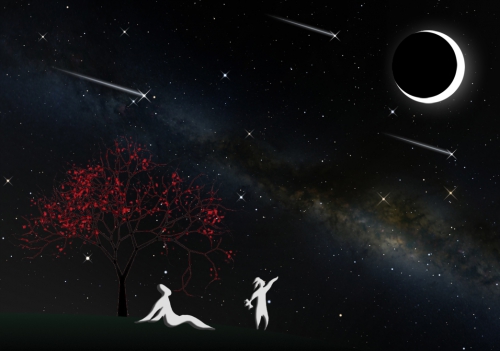 Stargazing Nights - Live Streamed
Where:

Frosty Drew Observatory

When:

Fri, Apr 24, 2020 8:00 pm - 10:00 pm

Cost:

$5 Suggested Donation per person 5 years and older
Tonight is Stargazing Night at Frosty Drew Observatory and forecasts are calling for rain to end before our session begins, and for clouds to clear out at some point during our session. Depending on how wet everything is alongside cloud clearing times, will give us an idea if live views will be possible tonight.
Regardless of sky conditions, we will be streaming live from our homes tonight, bringing the cosmos to the comfort of your home. We start streaming at 8:00 pm and go until 10:00 pm. If the sky is clear enough for live views we will showcase any object that is visible from our locations including binary stars, nebulae, star clusters, and galaxies. If clouds are attacking our views, we'll show images that were captured early this week, and previously archived images. Additionally, we will host a special guest tonight. James Crouch of CT is one of the hottest night photographers in the Southern New England area, he runs a workshop several times per month themed on capturing stunning images of the Milky Way, the Moon, and more. James will join us to showcase some of his fabulous images as well as chat with us about the ground he has covered during his fast rise to night photography fame. Tonight is certainly a night to tune in!
So kick back on your couch, or put out some popcorn and gather around the dining room table with your family, and catch up on all the amazing things happening in space. Visitors to our live stream will be able to submit questions and get into discussions over the YouTube live stream chat, which two Frosty Drew Sky Evangelists will be moderating. We'll see you tonight!
Tonight's live stream will be hosted at: https://youtu.be/2XlIJgd34oM
If you are looking for that awesome astronomy thing to do or just want a virtual escape from the reality of being home bound, then this is your chance.
Check out our page on Visiting Frosty Drew Observatory to learn more about what to expect at the Observatory and better help you prepare for your visit.
Please note that we do not allow any white lights on our campus from dusk - dawn. This is to ensure an equally awesome view of the night sky for all and to allow for the use of light sensitive astronomical equipment. Learn more about why we have this requirement in The Red Light District
To allow for visitors to freely explore all of the amazing experiences at Frosty Drew Observatory without having to wait in long lines, we have integrated a pass-based group access process that applies to only the large telescope inside the observatory dome. Take a moment to familiarize yourself with this process as part of your planning steps.
We will update this event listing on the day of the event. The update will describe our plans for the night and what to expect regarding weather and astronomical sights.