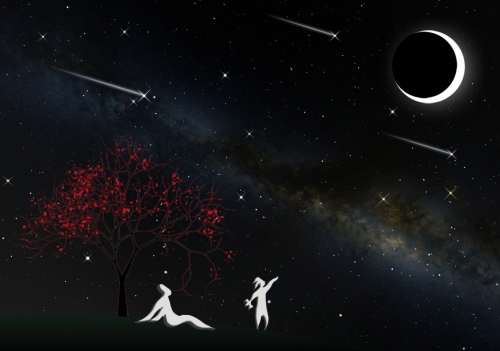 Stargazing Nights - Live Streamed
Where:

Frosty Drew Observatory

When:

Fri, May 15, 2020 8:30 pm - 10:30 pm

Cost:

$5 Suggested Donation per person 5 years and older
Tonight is Stargazing Night at Frosty Drew Observatory and forecasts are quite variable. Overnight tonight, t-storms and rain will certainly occur around the region, with t-storms being largely isolated. Timings are what are up for grabs right now, with a potential window of opportunity to observe during our live broadcast. At this time we will plan for both options, live views mixed with archived images and video. If weather hammers all of our locations, we'll switch to archived images captured over the past week. Regardless, we will have a night.
Our live broadcast starts at 8:30 pm and goes until 10:30 pm. Three Frosty Drew astronomers will host a live discussion while showing live views from their telescopes, which are setup at their homes, if the weather allows. Archived images and videos will also be visible. Two Frosty Drew Sky Evangelists will serve as chat moderators who will open discussions over the live chat, and take questions from you to pose over the air to our astronomers. This is Frosty Drew Observatory bringing the cosmos to you from our homes to yours during these uncertain times. So kick back around the TV, laptop, or just on your phone, and shake off the week with a quick catch up on all the amazing things happening in our sliver of the galaxy.
Tonight's Stargazing Nights Live Stream URL: https://youtu.be/3QS_iExfqBM
If you are looking for that awesome astronomy thing to do or just want a virtual escape from the reality of being home bound, then this is your chance.
Catch up on all the amazing things happening in space this week, including the return of the International Space Station, Venus' departure, and another new comet in A Celebration of Space - May 15, 2020
Check out our page on Visiting Frosty Drew Observatory to learn more about what to expect at the Observatory and better help you prepare for your visit.