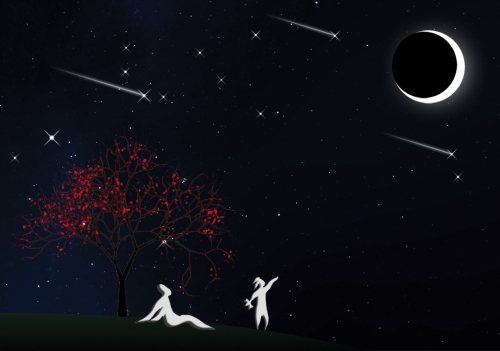 Stargazing Nights
Where:

Frosty Drew Observatory and Science Center

When:

Fri, Sep 17, 2021 7:30 pm - 10:30 pm

Cost:

$5 Suggested Donation per person 5 years and older
Welcome to the Frosty Drew Observatory Stargazing Nights! Every Friday night (weather permitting) we open our Observatory, Science Center, Sky Theatre, and telescopes to the sky and offer free stargazing and astronomy to anybody interested in observing with us.
Tonight's forecasts are calling for mostly cloudy sky conditions with patchy fog moving in overnight. There is a good chance that the sky will be overcast during our session, but there is an expected partial clearing that will fall nicely into most of our geek out. This clearing could allow for a hazy view of the 88% waxing gibbous Moon as well as Jupiter and Saturn. So we will give it a go tonight.
The Observatory, Observatory Courtyard, Sky Theatre, and Science Center will open at 7:30 pm. Observatory telescopes will make best effort attempts at catching a view of the Moon or the planets, but anything else will likely be out of view. In the Sky Theatre we will show celestial images captured by our astronomy team, and may offer a commentary if the sky is too cloudy to observe. The Science Center will host exhibits and a gallery of astrophotographs captured by our astronomers. We will close up at 10:30 pm if the sky stays clear enough. Otherwise, we will close up at 9:30 pm.
Overall, tonight is certainly not the night to make the long drive. The sky will be cloudy and we are hoping that lighter clouds will periodically allow for a view. There is a high probability that the sky will be too overcast to observe with telescopes. But if you're looking for a chance to get out and catch up on some geek, then tonight could be a night of celestial viewing, Observatory tours, and great discussions about the cosmos. If you're in the local area and have a free Friday night, stop in and hope with the best.
Take a moment to catch up on some awesome things happening in space this coming week in: A Celebration of Space - September 15, 2021
Be sure to subscribe to the Frosty Drew Observatory mailing list, follow us on Twitter (@FrostyDrewOBSY) or on Facebook to receive status updates about our Stargazing Nights program and more.
Check out our page on Visiting Frosty Drew Observatory to learn more about what to expect at the Observatory and to better help you prepare for your visit.
Please note that we do not allow any white lights on our campus from dusk - dawn. This is to ensure an equally awesome view of the night sky for all and to allow for the use of light sensitive astronomical equipment. Learn more about why we have this requirement in The Red Light District.
If you are looking for that awesome astronomy thing to do or just want a night out to experience the cosmos under the darkest sky in Rhode Island, then this is your chance.
Please note that due to the evolving COVID-19 pandemic, the detail of this event may change. Please check in regularly, both here and on our SARS-CoV-2 page, to stay up to date.