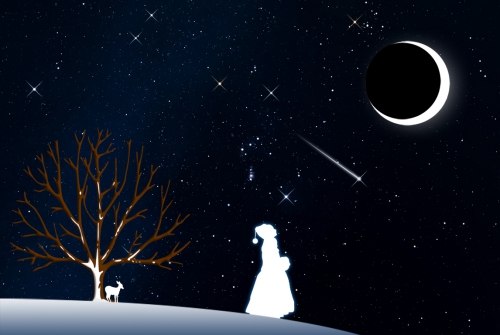 Stargazing Nights - CLOSED
Where:

Frosty Drew Observatory and Science Center

When:

Fri, Jan 21, 2022 - CLOSED

Cost:

$5 Suggested Donation per person 5 years and older
UPDATE: January 21, 2022 at 6:42 pm =======
Sky conditions onsite are quite poor with nearly all of the sky overcast with clouds. At this time it appears that telescopic observation will not be possible tonight. We will try again next Friday, January 28, 2022 at 7:00pm. Clouds begone!
===============================
Welcome to the Frosty Drew Observatory Stargazing Nights! Every Friday night (weather permitting) we open our Observatory, Science Center, Sky Theatre, and telescopes to the sky and offer free stargazing and astronomy to anybody interested in observing with us.
Tonight's forecasts are calling for increasing clouds during our opening times. There is a lot of variability in how fast clouds will move in, with some sources calling for a gradual increase and others calling for a rapid increase. The 87% waning gibbous Moon will rise at 8:37 pm, which will bring a significant brightening of the sky, but will be too low on the horizon to catch a view in the primary telescope. Regardless, tonight's forecast is much more promising than we have had over the past couple of weeks,
We will open the Observatory, and Sky Theatre at 7:00 pm tonight. In the Observatory we will direct the primary observatory telescope towards the winter sky, working around the clouds. Being that the Moon does not rise until after 8:30 pm, the sky will be quite dark, making for stunning views of the Orion Nebula, Messier 46 open star cluster, Hubble's Variable Nebula, Messier 37 open star cluster, NGC 2392 – a young white dwarf, and more. The Science Center is currently under construction, and will be closed tonight, but the Sky Theatre will be open with warm temps, and a feature of celestial objects photographed by the Frosty Drew Astronomy Team on screen. We will close up at either 10:00 pm or when the clouds overtake the sky, whichever comes first.
Overall, tonight is probably not the night to make the long drive. Even though there is variability in the forecast, all sources are calling for clouds, especially later in the evening. Add in that it will be quite cold, with temps dropping to 18° and wind chills hovering around 9°. If planning to visit, it is very important to dress properly, not only for your safety, but also to maintain the quality of viewing in our telescope. Those dressed improperly will radiate heat out of the opening in the observatory roof, which will distort the telescope's view. Take a moment to read up on how our astronomers dress when working the cold winter nights. If you're in the local area and have a free night, stop in and check out some of the winter celestial highlights in our new telescope.
Take a moment to catch up on some awesome happenings in space this week in:
A Celebration of Space - January 21, 2022
Be sure to subscribe to the Frosty Drew Observatory mailing list, follow us on Twitter (@FrostyDrewOBSY) or on Facebook to receive status updates about our Stargazing Nights program and more.
Check out our page on Visiting Frosty Drew Observatory to learn more about what to expect at the Observatory and to better help you prepare for your visit.
Please note that we do not allow any white lights on our campus from dusk - dawn. This is to ensure an equally awesome view of the night sky for all and to allow for the use of light sensitive astronomical equipment. Learn more about why we have this requirement in The Red Light District.
It is cold at Frosty Drew Observatory during the winter and early spring. Visitors will be completely exposed to the harsh winter environment while standing on frozen ground. Dressing properly is REQUIRED to attend! Lean how the Frosty Drew Astronomers dress for working overnight on the Frosty Drew campus during the winter. Read it! Follow it!
If you are looking for that awesome astronomy thing to do or just want a night out to experience the cosmos under the darkest sky in Rhode Island, then this is your chance.
Please note that due to the evolving COVID-19 pandemic, the detail of this event may change. Please check in regularly, both here and on our SARS-CoV-2 page, to stay up to date.