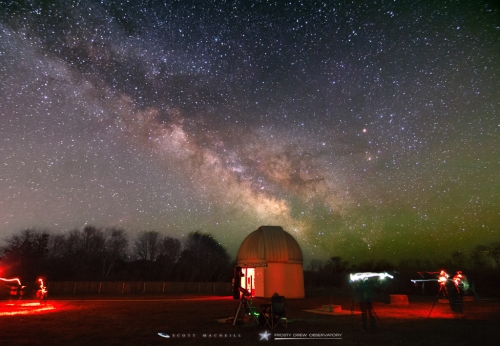 Summer Stargazing Nights
Where:

Frosty Drew Observatory

When:

Friday July 28, 2017 at 7:00 p.m - 10:00 p.m.

Cost:

$1 Suggested Donation per Person
Tonight is Stargazing Night at Frosty Drew Observatory and forecasts are calling for cloudy skies, showers, and t-storms. Unfortunately, it will not be the fabulous night we were hoping for. The 32% waxing crescent Moon will be in conjunction with Jupiter at about 2° apart and would have been a beautiful sight over the western horizon from sunset until the 11:18 p.m. set time. Though we still may catch a view in between passing clouds if variability favors us.
We will open the Observatory and Sky Theatre at 7:00 p.m. In the Observatory we will offer late afternoon tours of our telescopes while keeping a close watch on what the weather is doing. In the Sky Theatre we will offer a commentary and general astronomy discussion while showing a feature of celestial objects photographed at Frosty Drew Observatory. If weather is working out, we will open our telescopes around 8:30 with views of the Moon, Jupiter, and Saturn. If clouds crash our party we will close up around 10:00 p.m. Otherwise, we will stay until 11:30 p.m.
Overall, tonight would have a fantastic night to be out, though the relentless weather strike of 2017 continues to hammer Friday nights. Clouds will likely prevail, though the possibility is there to catch sight of the planets and the Moon. If visible, Jupiter will have Io (closest of the Galilean Moons) casting its shadow on Jupiter's cloud tops, making for a stunning view. Regardless, if you're in the area, stop in for a quick astro-fix with our astronomers and chat with us about weather-related anger management.
----------------------
Weekly Happenings
Scott MacNeill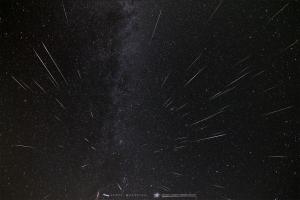 The annual Perseid Meteor Shower has begun! Starting on July 17th, the shower will run until August 24th. Though the best time to be out spotting shooting stars will be during the peak period, which happens overnight August 11-12, and August 12-13. The Perseid shower is quite active and meteor activity outside of the peak period will ramp up and slowly tapper off. We are already seeing the occasional Perseid Meteor passing over Frosty Drew Observatory with much more in store in the coming nights and weeks. We will host our annual Perseid Meteor Shower event on Friday, August 11th and Saturday, August 12th.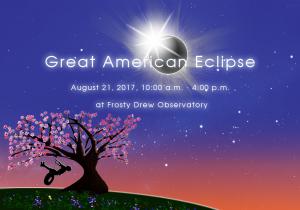 This past Sunday morning (July 23rd) the New Moon occurred at 5:46 a.m. ET and was the last New Moon to occur before the fabulous Solar Eclipse on August 21st. The next New Moon will bring the highly anticipated solar eclipse to North American skies, currently placing us in the last stretch before the eclipse. Where will you be for the eclipse? Though we will not have a total solar eclipse in New England, Rhode Island will see about a 65-66% partial eclipse. Frosty Drew Observatory will be open that Monday from 10:00 a.m. until 4:00 p.m. If staying in Southern New England, be sure to put Frosty Drew Observatory on your calendar and celebrate a fabulous day under the Sun with us.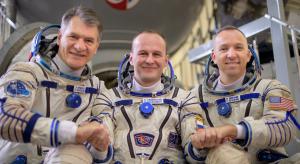 At 11:41 a.m. ET this morning, the Expedition 52 crew launched to the International Space Station (ISS). Comprised of three new crew members, the ISS will receive NASA astronaut Randy Bresnik, Roscosmos cosmonaut Sergey Ryazanskiy, and Paola Nespoli of the European Space Agency (ESA) after a six hour journey to the Station. Docking will commence at 6:00 p.m. ET tonight with the hatch opening ceremony at 7:40 p.m. ET tonight. Tune into NASA TV today for live coverage of the events and welcome Expedition 52 to the ISS.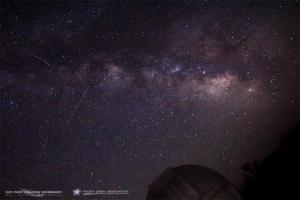 Starting early this morning and lasting through the weekend is the annual Delta Aquarid Meteor Shower peak. Though not a great meteor shower for Northern Hemisphere meteor freaks, this shower is still worth a view, especially without the Moon dominating the starscape. Set out each night this weekend to a dark location after 1:00 a.m., lay on your back with your feet towards the southeast and catch up-to 15 meteors per hour shooting across the sky. Clouds begone!
-Scott