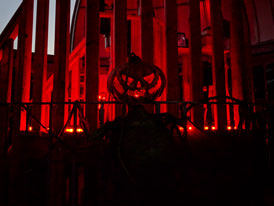 Spooky Views - A Halloween Stargazing Experience
Where:

Frosty Drew Observatory & Sky Theatre

When:

Friday October 26, 2018 at 6:30 p.m.

Cost:

$5 Suggested Donation per Person
Tonight Frosty Drew Observatory is hosting our annual Spooky Views – A Halloween Stargazing Night. The Observatory will be dressed up in spooky Halloween garb, with creepy tunes and freaky moments. Forecasts for tonight are not looking too great. We are expecting increasing clouds this afternoon, with skies eventually becoming overcast between 10:00 p.m. and midnight. Timings are variable at this point, and with the 96% waning gibbous Moon shining brightly overhead, we could catch okay views of the Moon, Saturn, and Mars earlier in the night in between passing clouds and through thinner cloud cover. Additionally, tonight's cool temps, increasing moisture in the atmosphere, and near Full Moon could set us up for a fabulous 22° lunar halo.
We will open the Observatory and Sky Theatre at 6:30 p.m. tonight. In the Observatory spooky things will be afoot as telescopes try for views of Saturn's rings, Mars' polar ice cap, and the cratered lunar surface. Loads of candy will be available to help with scary moments. In the Sky Theatre, temps will be warmer and we'll be featuring our showcase of celestial objects photographed at Frosty Drew Observatory. We plan to close up at 11:30 p.m. or when clouds chase us out, no earlier than 10:00 p.m. Check in on our Twitter (@FrostyDrewOBSY) or the right hand column on our website for updates on what we are seeing at the Observatory, including a "Closing up" post when we decide to pack up.
Overall, tonight's increasing clouds, and near Full Moon, will make for less than awesome conditions. Though clouds should start off gradually, allowing for views of the brighter objects in the sky. Add in the prospects for a 22° lunar halo, and that the Observatory will be in full out Halloween mode, and it will still be a night to stop in. If you have the Halloween bug and feel compelled to arrive in costume, please do! Though a costume is not required. So stop in for a creepy night, stroll around in the dark - desolate surroundings of Frosty Drew Observatory, and freak out your inner geek as we welcome Halloween week!