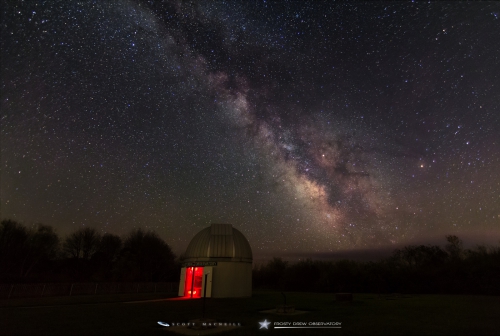 Stargazing Nights
Where:

Frosty Drew Observatory

When:

Friday May 11, 2018 at 8:30 p.m

Cost:

$1 Suggested Donation per Person
Tonight is Stargazing Night and forecasts are calling for a drop in clouds to nearly clear skies for our session of astro geekery. Almost magically, all forecasts are calling for a sharp drop in clouds at sunset, which will last until near midnight when clouds begin to move back in. There does not appear to be any variability, though this is a weird forecast, so we'll handle it carefully. With no Moon until the 10% waning crescent rises at 4:17 a.m., we are setup for fabulous dark sky viewing. Sadly, the Milky Way is still not visible until the morning hours, and will likely be obscured by clouds at that time. Though Jupiter has moved into our evening skies and will certainly be the object of interest tonight.
The Observatory and Sky Theatre will open at 8:30 p.m. tonight. In the Observatory, telescopes will start off view bright views of Venus, which is now sporting an 86% waning gibbous phase. Once Jupiter rises over the tree tops, we will direct the big telescope towards the massive gas giant. Early viewers will catch the Great Red Spot as it rotates out of view. The four Galilean Moons will be visible all night as well as the fabulous equatorial bands in Jupiter's atmosphere. Being that skies are moonless, we will also showcase globular star clusters, nebulae associated with dying stars, galaxies, and a few binary stars. The Sky Theatre will be open and featuring our showcase of celestial objects we photograph at Frosty Drew Observatory. We will stay open until 11:30 p.m. or until clouds chase us out. If skies stay clear, we may stay much later to catch a view of the Milky Way.
Overall, tonight's forecast is strangely favoring us. We will have dark, moonless skies for most of the nighttime hours and clear skies should last until around midnight. Those looking to catch sight of the Milky Way may be challenged by incoming clouds in the morning hours. Though Jupiter in only 3 days past opposition, and in perfect viewing. If making the long drive (over an hour) it may be risky since clouds will eventually move in and a threat of fog is present. Regardless, visitors will likely have a fabulous night under the stars tonight at Frosty Drew Observatory.
--------------------
Weekly Happenings
Scott MacNeill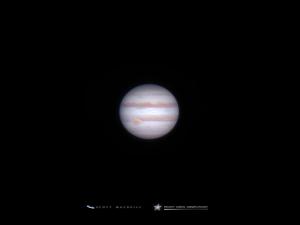 This past Tuesday, May 8th, the opposition of Jupiter happened, which placed Jupiter on the opposite side of the Earth than the Sun on that day. In Southern New England, we have had a fabulous week of excellent weather, making for many fantastic views of the gas giant. Now that opposition is past, Jupiter is visible after sunset in the southeast sky, rising earlier with each passing day. We are still in the period of fabulous viewing that accompanies opposition. So make a point to get out and see Jupiter, the Four Galilean Moons, and possibly the Great Red Spot on clear nights this week. Binoculars will reveal the moons, a backyard telescope will show the equatorial bands, and the Great Red Spot. Check out this photo I captured of Jupiter on Tuesday morning, the day of opposition, at Ladd Observatory in Providence, RI.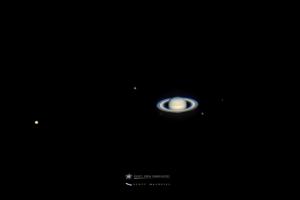 This past week, Saturn has begun rising before midnight over Southern New England, with rise times happening earlier with each passing night. One of our summer season highlights of late has been the view of Saturn. It is one of the objects, if not the number one object, our telescope shows best! Viewers are often so surprised at how amazing it appears, that their knee-jerk reaction is to question the authenticity of their view, in a kind, enthusiastic manner. The view of Saturn's rings and moons often leaves visitors speechless. Saturn is hands down the most popular object we view in our telescopes at Frosty Drew Observatory. On the heals of Jupiter's opposition, we are closing in on Saturn's opposition, which will occur on Wednesday, June 27th. We will start viewing Saturn in our telescope within the next couple weeks during the morning hours and will begin showcasing Saturn every Friday night in early to mid June. Summer Solstice on Saturn occurred in May 2017, so the top side of the rings are still near maximum tilt (26.7°) towards the Sun (and Earth). So fabulous views of Saturn's rings and moons are only weeks away!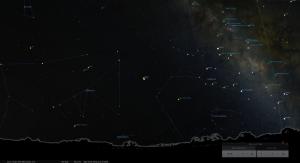 If that is not enough planet fantastication for you, then Mars – which will be the rock star of this summer, is currently rising in the early morning hours around 1:00 a.m. Getting brighter with each passing night, Mars in set to offer fabulous views in the month surrounding its opposition period (mid July – mid August). This coming Monday morning, May 14th, Mars will visibly pass within 0.27° of the globular cluster – Messier 75 (M75) in the constellation Sagittarius. At that distance, both Mars and M75 will be visible together in a telescopic view. Best viewing times will be around 3:00 a.m. Since the Moon is only a 1% waning crescent, you can make it a fabulous night to view the Milky Way as well. Set out to a dark location with a wide open view of the sky. Sit back and catch a stunning view of the Milky Way silhouetted by Saturn and Mars. Then setup a telescope and catch a stunning view of Mars alongside M75. Check out this star chart. Total geek out moment!
-Scott