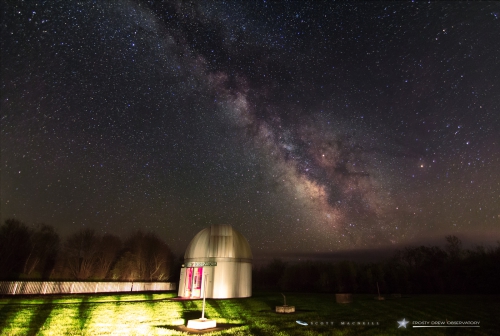 Stargazing Nights
Where:

Frosty Drew Observatory

When:

Friday May 18, 2018 at 8:30 p.m

Cost:

$1 Suggested Donation per Person
Tonight is Stargazing Night at Frosty Drew Observatory and forecasts are looking a bit variable, though all sources are still calling for cloudy conditions. Variability exists in just how cloudy it may be tonight. Starting at 8:00 p.m. we could see skies clear to partly cloudy conditions, which may allow for periodic views of the 16% waxing crescent Moon in the western sky. Sadly, this stretch of cloudy conditions is covering the entire New Moon period, robbing us of fabulous views of the Milky Way. We'll take the night as it goes and post updates to our Twitter (@FrostyDrewOBSY) and Facebook as the night progresses.
We plan to open the Observatory and Sky Theatre at 8:30 p.m. tonight. In the Observatory, telescopes will start off on standby as we evaluate sky conditions on site. If clearings happen, we will direct our telescopes towards the waxing crescent Moon, Jupiter, and possibly more. If Jupiter is in view, we will catch a view of the four Galilean Moons and possibly the Great Red Spot early in the night. If skies don't work out, we'll be in the Sky Theatre offering a commentary while featuring celestial objects normally visible using photos captured at Frosty Drew Observatory. We'll stay open until 11:30 p.m. or until clouds chase us out.
Overall, tonight would have been fabulous if clouds had other plans. Though the high probability of clouds will make for difficult viewing. We may catch a view of the crescent Moon and possibly Jupiter, though these views will be less than optimal. Variability favors us at Frosty Drew Observatory and recently we have had better-than-expected conditions on nights it was supposed to be cloudy. So the possibility remains for potentially good viewing tonight. If the astro geek in you is feeling risky, then stop in and hope with the best.
-------------------
Weekly Happenings
Scott MacNeill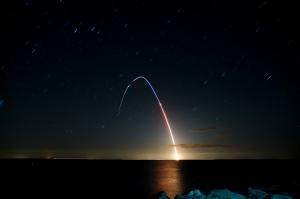 Even though we are under what feels like perpetual clouds in Southern New England, there is a fabulous rocket launch happening early Monday morning, May 21, 2018. At 4:39 a.m. EDT, the launch window opens for the OA-9 ISS resupply mission to launch on the Orbital ATK Antares rocket from Wallops Flight Facility in Virginia. On board are new scientific equipment and experiments, food, and other supplies for the ISS Expedition 55 crew. Additionally, EQUISat – Brown University's first nano-satellite, designed by undergraduate students, will be on board the resupply mission. This makes the launch a little personal to Rhode Island residents. To catch sight of the launch, set out on Monday morning to a site with a good view of the southern horizon, and be on site and ready at least 10 minutes before the launch window opens. In Rhode Island, we will see the launch vehicle after a 3 minute delay due to the rocket's trajectory and the curvature of Earth (yes people the Earth is round). Forecasts look okay at this time, let's hope that holds out. If weather crashes the launch, backup windows are set until May 25th. Take a moment to read up on Brown Universitys EQUISat, then head over to NASAs Wallops Flight Facility Mission Status Center and catch up on the OA-9 launch. If you catch a photo of the launch, be sure to post it on our Facebook and we'll share it on our time line.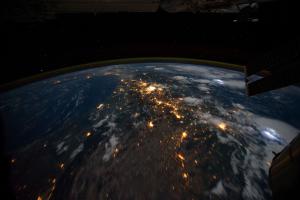 Starting Sunday, May 20th the International Space Station (ISS) becomes visible for every nighttime pass over much of the United States. Completing one full orbit around Earth every 90 minutes will place the ISS visibly over our location about 5 times daily from dusk to dawn. For residents of Earth to observe the ISS passing over, the station needs to be in sunlight while Earth-bound observers are in darkness. This alignment becomes much more prevalent in the periods around the Summer Solstice, when the Northern Hemisphere is at it's maximum tilt towards the Sun for our year. These frequent passes will only last until May 24th, after which ISS passes reduce in visible to about 3 passes daily in the night sky after sunset. Frequency of passes will continue to reduce until June 6th, when the ISS orbits out or our region at night. So get out this week and catch a view of the ISS passing over. You can get daily pass times applicable to Southern New England and generally the Northeast. For pass times over your location, visit NASAs Spot the Station.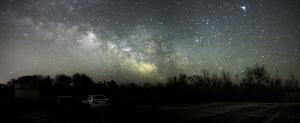 At Frosty Drew Observatory, we are in the height of our best Milky Way viewing season! Rising in the morning hours shortly after midnight, the Milky Way becomes intensely bright over our location in the morning hours around 3:00 a.m. The reason we have such fabulous views of the Milky Way this time of year comes down to a few variables. The position in the sky that the Milky Way is visible this month is the best part of the sky we have as it relates to light pollution, which is the southern sky. In the early morning hours, a lot of light pollution from local sources is reduced due to lights being turned off. Additionally, the early morning hours often bring cooler temps which can cause all the moisture in the air to condense and drop, making the ground saturated with dew, but skies crystal clear. To catch sight of the Milky Way, you will need a morning when the Moon is not present, because the Moon brightens up the sky enough to obscure the Milky Way partially or completely, depending on the lunar phase. If skies clear this week, we will try for our yearly photograph of the Milky Way. If it all works out, we'll post it on our Facebook and website. If you're looking to catch sight of the Milky Way, you do not need special equipment. A dark location, clear skies, and a wide open view of the starscape is all that's needed. The Milky Way will appear similar to what you see in photos, only more subtle and without the colors. Check out our gallery of Milky Way photos that we have captured at Frosty Drew Observatory. Then get out and see some stars!
Save the Date – On Friday, May 25th, the Frosty Drew Observatory Summer Stargazing Nights start and continue until Labor Day weekend. This will shift our open time to 6:00 p.m. so we can offer solar viewing with our hydrogen alpha and white light telescopes. We also have more telescopes and presentations available to visitors on Friday nights. Check out our events calendar for the summer, then gear up with us for a fabulous summer with the cosmos at Frosty Drew Observatory!
-Scott