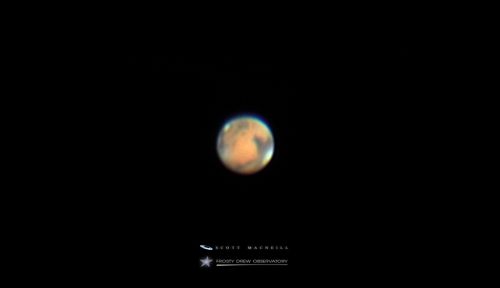 Summer Stargazing Nights
Where:

Frosty Drew Observatory

When:

Friday July 27, 2018 at 6:00 p.m

Cost:

$5 Suggested Donation per person 5 years and older
Tonight is Stargazing Night at Frosty Drew Observatory and forecasts are calling for increasing clouds, fog, and t-storms. Variability in tonight's forecast, and the presence of the Full Moon make for interesting possibilities. Variability exists in timings of cloud buildup and fog, and variability usually favors us at Frosty Drew Observatory. The Full Moon is super bright and will outshine moderate fog and thin cloud cover. This could allow for hazy views of the Moon and possibly Venus, Jupiter, Saturn and Mars tonight. Though as we've learned in New England, we will have a better idea of tonight's forecast, tomorrow.
We will open the Observatory and Sky Theatre tonight at 6:00 p.m. In the Observatory courtyard, we will have our Hydrogen Alpha telescope available for views of the solar chromosphere and any prominence that may be visible. Once the Sun sets, we will switch over to standby mode as we evaluate sky conditions. If clear enough, we will direct our telescopes towards Venus, Jupiter, Saturn, the Full Moon, and eventually Mars. In the Sky Theatre the big screen will feature a showcase of celestial objects photographed at Frosty Drew Observatory. We will stay open until 11:30 p.m. or until clouds chase us out, whichever comes first.
Overall, tonight is at tough night to be out under the stars. The Moon is full, clouds are increasing, fog will persist, and it will be wet. Though today is a hot day for astro! It's Mars' opposition, which places Mars on the opposite side of Earth than the Sun, making Mars the third brightest object in the night sky after the Moon, and Venus. It's important to note that hazy / thin clouds / moderately foggy conditions make for fabulous views of the bright planets, which there are many tonight. So we could score. It certainly goes without saying that views of the Milky Way are hopeless tonight, with the intense Moon light and cloudy skies. Check in on our Twitter (@FrostyDrewOBSY), which is also available on the right panel of our website (https://frostydrew.org/observatory/), for updates on the conditions we are seeing at the Observatory. This will help you make an informed decision on visiting. Regardless, if you need a quick astro fix, then stop in at Frosty Drew Observatory tonight as geek out moments will certainly be available.
-------------------------
Weekly Happenings
Scott MacNeill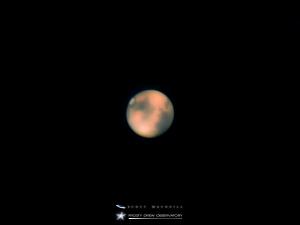 Today, Friday, July 27, 2018 Earth arrives at the point in its yearly orbit where Mars is placed on the opposite side of Earth than the Sun. This is the day we pass Mars in our orbit and we call it the Opposition of Mars. During opposition periods, the outer planet is at best viewing for our year, and usually at the closest point to us. Though Mars elliptical orbit will put its closest approach on July 30-31st. With most outer planets, opposition happens once every Earth year, though with Mars it happens generally every two Earth years. This is because of Mars' 687 day orbital period around the Sun. One year from now, Mars will be on the opposite side of the Sun than Earth, placing Mars into our daytime sky. We will have to wait until October 13, 2020 for the next Mars opposition event. Being that Mars gets so close to Earth during the periods around opposition, 34 million miles – 63 million miles, Mars can become quite bright. This year, Mars is very close, about 35 million miles distant, which puts Mars at the fourth brightest object in the sky with only the Sun, Moon, and Venus outshining the red planet. The next few weeks will offer up fabulous views of Mars, so stop in at Frosty Drew Observatory in August to catch a view.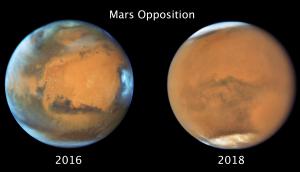 Over the past couple months, a planet wide dust storm has been raging on Mars. During perihelion (closest to the Sun) on Mars, increased solar radiation will heat up air and dust over the darker surface features of Mars, the warmer air will rise quickly into the cooler upper atmosphere air, bringing dust particles with it, which continue to heat up. This rising of heat will also increase winds, which will lift more dust into the air. These effects of perihelion are dramatic on Mars because of Mars eccentric orbit (0.0934 eccentricity; 1.0 is elliptic), which will allow for an additional 40% of direct sunlight. These planet-wide dust storms will totally obscure our view of surface features, which will crash our hopes for awesome views of Mars during the opposition period. Though the storm has started to subside, with less dust being observed in Mars atmosphere and temperatures starting to drop. It will take weeks to months for the dust to settle, though we could score a partially good view of the red planet in the next few weeks as the dust settles. Check out today's Astronomy Picture Of the Day (APOD), which showcases Mars near opposition in 2016 vs 2018. Don't leave Mars in the dust just yet, good views can still be had!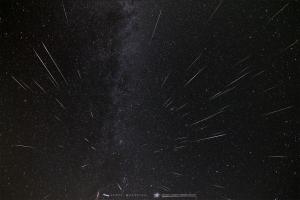 Save the Date: Perseid Meteor Shower at Frosty Drew Observatory
On Saturday and Sunday, August 11-12, 2018, the Perseid Meteor Shower peak will happen. Bringing with it an increase of up to 100 meteors per hour to the sky. Weather and the Lunar phase play big roles in how awesome our view of the meteor shower will be, and this year the New Moon will happen during the peak! This has us lined up for a potentially amazing weekend of shooting stars! Frosty Drew Observatory will be in full geek out mode starting Friday, August 9 – Sunday August 12. Telescopes will showcase planets and other celestial objects from 8:30 p.m. until meteors start becoming frequent. If skies are clear enough, we will stay open until sunrise as meteors blaze the sky. This is one of the best meteor showers of the year, so make plans to be out under the stars at Frosty Drew Observatory that weekend!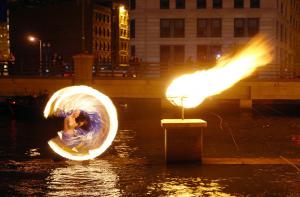 Tomorrow night, Saturday, July 28th, the Sidewalk Astronomers of RI and Brown University Physics will be hosting a fabulous night of stargazing at Waterfire in Providence, RI. Telescopes will be setup along Canal Walk in between College Street and Market Square for all. Forecasts are uncertain at this time, though if skies work out, Jupiter, Saturn, Mars, and the waxing gibbous Moon will be on display. So stop in for a fabulous night of fire and smoke and catch a view of Saturn's rings, Jupiter's moons, and more.
-Scott