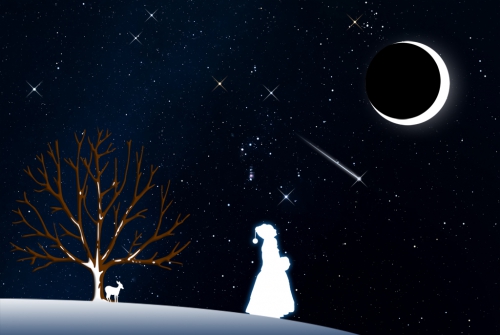 Stargazing Nights
Where:

Frosty Drew Observatory

When:

Friday February 15, 2019 at 7:00 p.m - 9:00 pm

Cost:

$5 Suggested Donation per person 5 years and older
Tonight is Stargazing Night and after three consecutive Fridays of crystal clear, Moon-less skies, the clouds have returned. We can expect light rain this evening, ending early, with fully overcast conditions continuing overnight. Winds will be a bit gusty as well, with gusts forecast to reach the 33 mph range. Though wind forecasts of late have been relatively inaccurate at Frosty Drew Observatory, we are not seeing much variability in tonight's overall forecast. Add in that the bright 80% waxing gibbous Moon will be out for most of the night, and dark skies would not have been part of our plans anyway. With full cloud cover expected, telescopes will remain closed tonight.
We will open the Observatory and Sky Theatre from 7:00 pm – 9:00 pm tonight. In the Sky Theatre we will show images of the total lunar eclipse of January 20-21, 2019, that we captured at Frosty Drew Observatory, with a commentary about the eclipse and an open discussion on general astronomy. The Observatory building will be open for tours of our gear and operations, with the lights on.
Overall, tonight is not the night to make the long drive. Rain, followed by clouds and wind will make for near impossible viewing conditions. Though if you're in the local area and want to get your geek on with our astronomers, or check out our fabulous total lunar eclipse images on the big screen, then stop in for a quick astro-bump. Occasionally, we will evaluate sky conditions for the off-chance that an unexpected clearing moves through. If so, we will jump on the big telescope and check out the Moon.