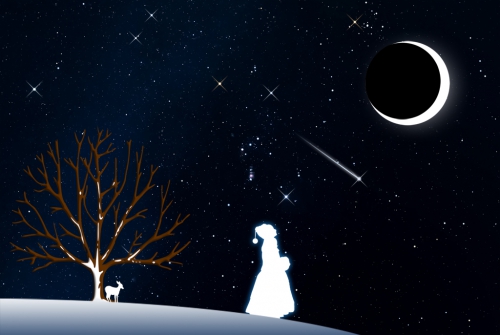 Stargazing Nights
Where:

Frosty Drew Observatory

When:

Friday March 8, 2019 at 7:00 p.m

Cost:

$5 Suggested Donation per person 5 years and older
Tonight is Stargazing Night at Frosty Drew Observatory and forecasts are quite variable at this time. We can expect hazy conditions with clouds potentially increasing to mostly cloudy conditions this evening, though all clouds appear to be high level clouds, which usually appear as haze-like over Frosty Drew Observatory. Being that we have a super thin 5% waxing crescent Moon setting at 7:40 pm, super dark skies are expected nearly all night long. Depending on how heavy haze-like conditions get, we could see a fabulous night. We usually do well with variable forecasts, especially when high-level clouds are in the forecast. So we remain hopeful that we may have a great night.
The Observatory and Sky Theatre will open at 7:00 pm tonight. In the Observatory, telescopes will start off on standby as we evaluate sky conditions on site. If good to go, we will start off with a super low view of the sexy crescent Moon. The Orion Nebula, Hind's Crimson Star, Messier 46, Sigma Orion, The Ghost of Jupiter, and numerous galaxies are on tonight's observing list, which is all dependent on how overcast the sky is. Inside the Sky Theatre we will feature warm temps, and a showcase of images captured at Frosty Drew Observatory during the total lunar eclipse on January 20-21, 2019. We will stay open until 11:00 pm or until clouds chase us out. No earlier than 10:00 pm. Check in on our Twitter (@FrostyDrewOBSY) or the right column of our website for updates on what is happening at the Observatory, including a closing up post when we decide to start packing up.
Overall, tonight is a tough call. Having no Moon present for the night, makes for amazing potential, especially with dozens of springtime galaxies coming into view. Though clouds could wreak havoc on those ambitions. Regardless, we are quite convinced that we will be able to observe through the telescopes tonight; though super clear, dark skies are less certain. If you're making the long drive, it may be the night to skip, though if you are in the area or are feeling a bit risky, then tonight could turn out excellent. So stop in and hope with the best.
-Scott