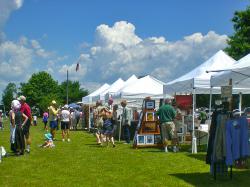 Sea Star Marketplace 2012
Where:

Ninigret Park, Charlestown, RI

When:

Saturday, July 28, 2012 from 9:00 a.m. to 4:00 p.m.

Cost:

Admission is Free
Go to the 2013 Sea Star Marketplace event.
Arts, fine crafts, and antiques will be front and center on Saturday, July 28, from 9:00 a.m. to 4:00 p. m. at the Second Annual Sea Star Marketplace in Ninigret Park. The rain date is July 29 (but we are predicting sun).
On July 28, the large, grassy field next to the Frosty Drew Nature Center & Observatory will be filled with exhibitors' tents as we celebrate the arts. Photographs, paintings, handcrafted jewelry, pottery, cast and blown glass vessels, woodworking, shell creations, garden accessories, tilework, copper ountains, t-shirts, and antique duck decoys are some of the items that will be on display and for sale.
Visitors will be enticed to take a break from their searches to enjoy a tour of the Universe in the Sky Theatre. Entitled "Where Are We? Our Place in the Universe" Dr. Giovanni Fazio, Senior Physicist at the Harvard-Smithsonian Center for Astrophysics, will begin at our planet Earth, travel through our Solar System and Galaxy, and end at the edge of the known Universe—a most beautiful and fascinating journey with lots of surprises that will entertain youngsters as well as adults.
Then, did you ever want to learn how to do a fish print? Come to see, and you may be selected to try it. Are you interested in observing the sun? Frosty Drew astronomers will have sunspotters available and will give tours of the Observatory. Children can get their faces painted and participate in other
activities.
Do not forget the food. There will be lobster rolls, clams, oysters, shrimp from the Matunuck Oyster Bar, barbecue, and other food, including ice cream and strawberry shortcakes.
Finally, there will be live music with Mike Bussey, Heather Maloney, John Varadian, and others, throughout the day.
Visitors who plan to make a weekend trip to Charlestown can enjoy activities in Ninigret Park, Charlestown's beautiful beaches, the Ninigret Wildlife Refuge, the Kimball Wildlife Sanctuary, the Indian Cedar Swamp, Burlingame State Park, and other nearby attractions.
The schedule of the day is as follows:
Entertainment:
Tour of the Universe (all ages!): 11:00 a.m. Sky Theatre
Ladies of the Rolling Pin: 11:00 a.m. Entertainment Tent
Heather Maloney: 12:00 noon Entertainment Tent
Tour of the Universe (all ages!) 1:00 p.m. Sky Theatre
Sol Music: 1:30 p.m. Entertainment Tent
Burt the Racoon: Roving
Demonstrations:
Bee Keeping/Ashaway Apiary: Booth No. 28
Fish Printing/Kecheneny: Booth No. 43
Weaving/Carolina Fiber & Fiction: Booth No. 1
Observatory Tours and sun spot observation: Observatory
Frosty Drew Nature Center & Observatory would like to thank the following sponsors for making the Sea Star Marketplace possible.
Superstar : NewportFed
Star : Eckel Insurance Inc.
Star : Haversham Tavern
Star : John C. Drew Insurance
Star : McQuades Ace Hardware
Star : Ocean House Marina
Star : Simple Pleasures
Star : United Builders Supply Co. Inc.
Comets : Andross Hardware & Coal
Comets : Pats Power
We would also like to thank Fenner Septic Service, Liberty Rental, Dunkin' Donuts, and RPE Waste Services for their assistance, and we thank generous individuals for their support.
Booth space is still available. Download an application and rules if you are interested in participating as an exhibitor. Funds raised from the Sea Star Marketplace support our environmental education programs and keep the Frosty Drew Observatory open to the public on Fridays free of charge.