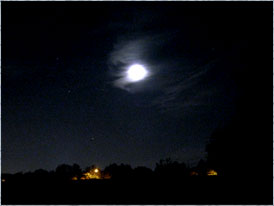 Spooky Views
Where:

Frosty Drew Observatory & Sky Theatre

When:

Friday October 28, 2016 at 6:30 p.m.

Cost:

$1 Suggested Donation per Person
Join the Frosty Drew Astronomers for a night under spooky Halloween skies. We will have views of Venus, Uranus, Neptune, and more in our telescopes. In the Sky Theatre we will have activities to celebrate astronomy and Halloween. Loads of candy will be available as well throughout the night. As the witching hour approaches we will direct our telescopes towards planetary nebulae - the remnants of dying stars - as we celebrate the departure from the lighter half of the year and plunge into the darker half.
We will open the Observatory and Sky Theatre at 6:30 p.m. The Observatory will be in full out Halloween mode with frightful sights, spooky sounds, and candy available for all who visit. Telescopes will start on standby as we monitor sky conditions on site. Uranus, Neptune and dozens of deep sky objects will be within our telescopes reach tonight if weather works out. In the Sky Theatre we will show our impressive feature of celestial objects photographed at Frosty Drew Observatory. If skies are clear, we could be on site quite late reveling in the fabulous starscape. Otherwise we will pack it in around 11:30 p.m. Periodically checking in on our Twitter (@FrostyDrewOBSY) or Facebook will get you updates on conditions and what is happening at the Observatory.
Overall, tonight's sky is anyone's best guess. The forecasts are as reliable as a gasoline based fire extinguisher, though until this morning, reports looked excellent. Regardless, loads of candy will be on hand and spooky décor will make for a creepy night at the Observatory. So dig out that old costume, put on your mask and come out to the creepy woodlands of Ninigret Park to celebrate the Eve of All Hallows... If you dare...