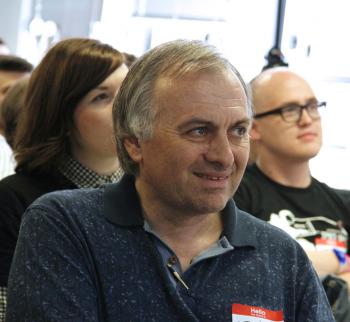 Brian Kelley
Like many, Brian developed an interest in stargazing at a young age. He still owns his one and only telescope, a 2 inch refractor which he primarily used to look at the moon and planets in his early teenage years. Quickly identifying the need for something more sophisticated he started to grind a custom mirror for a 6 inch reflector. Unfortunately, progress was agonizingly slow and the mirror is still a work in progress (that lens is surely still buried in a box somewhere in the basement) and interests in stargazing waned as other interests in bicycling and gardening increased. Sometime in the late 1980s, while looking for a place to park while exploring the roads of southern Rhode Island on a bike, Brian stumbled upon Frosty Drew Observatory.
The observatory's parking lot became a favorite place to leave his car when driving down from Massachusetts for a day of cycling. One day, the observatory was actually open and he popped in to safely view the Sun. Sometime thereafter, a second opportunity arose for an evening session. Eventually, visits increased to once or twice a year. And in 2009, after joining the ranks of the unemployed, Brian started to make more frequent visits to Frosty Drew. By the summer of 2014, he became a Frosty Drew volunteer, offering his knowledge of astronomy to those who were waiting in line for views through observatory telescopes.
Today, Brian is the owner of two pairs of binoculars, a 7x50 and a 12x50, which he uses for viewing celestial objects on frequent visits to Frosty Drew. He is a daily reader of Deborah Byrd's EarthSkyNews which helps expand his knowledge of the heavens. He continues to be an avid cyclist and gardener and is a keen observer of life's synchronicities. Brian lives in the suburbs of Boston and is employed as a software and database engineer.