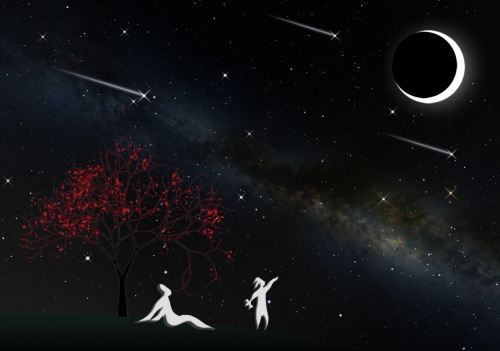 Stargazing Nights - CLOSED
Where:

Frosty Drew Observatory

When:

Fri, Mar 20, 2020 - CLOSED

Cost:

$5 Suggested Donation per person 5 years and older
Tonight is Stargazing Night at Frosty Drew Observatory, and due to clouds, showers, patchy fog, and high winds, we will keep the Observatory closed tonight. We usually stay open on nights like tonight and offer our cloudy night event schedule, which includes presentations in the Sky Theatre, Science Center, and tours of our Observatory. On Monday, March 16th, additional restrictions that limit group activities to 25 people were implemented via Executive Order in RI. These measures are designed to help stop the spread of the novel (new) coronavirus, which have resulted in us changing how our events will play out in the near future. Please read out official update on how we are adapting to the situation. In short, we are suspending all activities in the Sky Theatre, Science Center, and we are closing the primary observatory telescope. Instead we will setup telescopes in the Observatory Courtyard, which is wide open and completely exposed to the outdoor environment. We will continue to welcome visitors and will ask the visitors maintain a reasonable distance from each other while in attendance. This change also means that we will be completely closed on nights where telescopic viewing will be obscured, like tonight. We hope to continue offering a place where everyone can escape the stress of their lives and reach for the stars. Considering the overall situation is evolving quite rapidly, new restrictions and changes are happening frequently. For the most recent position of Frosty Drew Observatory and Science Center, periodically check our official COVID-19 page.
In the meantime, step outside as often as possible. You may not have the amazing starscape that blazes the sky over Frosty Drew Observatory, but there are so many things you can do at home to stay connected to space. Here is a list of activities that you can do at home to help keep you looking to the sky. We believe that during this difficult and rapidly changing situation we can take solace in the cosmos, the night sky, and the natural world. So take a moment and read up on how you can stay connected to the cosmos while stuck at home.
Be sure to subscribe to the Frosty Drew Observatory mailing list, follow us on Twitter (@FrostyDrewOBSY) or on Facebook to receive status updates about our Stargazing Nights program and more.
If you are looking for that awesome astronomy thing to do or just want a night out to experience the cosmos under the darkest skies in Rhode Island, then this is your chance.
Check out our page on Visiting Frosty Drew Observatory to learn more about what to expect at the Observatory and better help you prepare for your visit.
Please note that we do not allow any white lights on our campus from dusk - dawn. This is to ensure an equally awesome view of the night sky for all and to allow for the use of light sensitive astronomical equipment. Learn more about why we have this requirement in The Red Light District
To allow for visitors to freely explore all of the amazing experiences at Frosty Drew Observatory without having to wait in long lines, we have integrated a pass-based group access process that applies to only the large telescope inside the observatory dome. Take a moment to familiarize yourself with this process as part of your planning steps.