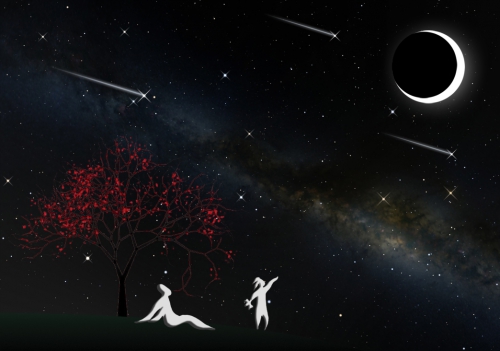 Stargazing Nights
Where:

Frosty Drew Observatory

When:

Fri, Mar 27, 2020 7:30 pm - 10:30 pm

Cost:

$5 Suggested Donation per person 5 years and older
Tonight is Stargazing Night at Frosty Drew Observatory and forecasts look fabulous! We can expect mostly clear to clear skies all night with calm winds and acceptable temps. This is excellent timing considering the 10% waxing crescent Moon will be with us until 10:20 pm, hanging beautifully over the SW sky. The 10% crescent Moon is not bright enough to hammer the dark skies, so we will have the best of both worlds tonight, dark skies alongside stunning views of the Moon, which will sport fantastically bright Earthshine, which is sunlight reflecting off Earth and illuminating the nighttime side of the Moon, causing it to subtly glow. Certainly a beautiful night to be out!
We will open the Observatory Courtyard at 7:30 pm tonight. In telescopes, we will showcase an impressive list of objects. Starting off, we'll have views of Venus, which is currently in its third quarter phase. The crescent Moon will also visible periodically in our telescopes. As the night continues, we will observe the Orion Nebula, Messier 46 open star cluster, Messier 41 open star cluster, Messier 3 Globular Cluster, The Ghost of Jupiter – a young white dwarf, and more. Additionally, Comet C/2019 Y4 Atlas has become very bright and is now binocular visible, nearing naked eye visible. We will be periodically observing Comet Atlas throughout the night. Please note that the Sky Theatre, Science Center, and Observatory primary telescope will all be closed tonight, and the only accessible location to visitors will be the Observatory Courtyard, which is outside and completely exposed to temperatures, wind, and weather. We will offer access to one gender neutral restroom and require those who use it to wash their hands! We will close up the Courtyard at 10:30 pm.
Overall, tonight has all the makings for an amazing night! The 10% crescent Moon will silhouette the super dark night sky and starscape, making for almost surreal viewing conditions. Our program tonight will be severely restricted due to compliance with executive orders that are in effect regarding COVID-19, though the sky is accessible to all and we will have at least one telescope setup outside for viewing. If you are looking for a change to get out and get your mind off the stresses of late, then stop in for a view of the cosmos and take solace in the stars.
Note: If you are feeling sick or are concerned about being sick, stay home! Visiting Frosty Drew Observatory when sick will not make you feel better. In fact, the outdoor conditions will exacerbate your existing symptoms. We will be here when you feel better and will be happy to see you healthy!
Catch up with this weeks celestial happenings, including fabulous STEM projects for home, Comet C2019/Y4 Atlas, and continued evening passes of the ISS in: Celebration of Space
If you are looking for that awesome astronomy thing to do or just want a night out to experience the cosmos under the darkest skies in Rhode Island, then this is your chance.
Check out our page on Visiting Frosty Drew Observatory to learn more about what to expect at the Observatory and better help you prepare for your visit.
Please note that we do not allow any white lights on our campus from dusk - dawn. This is to ensure an equally awesome view of the night sky for all and to allow for the use of light sensitive astronomical equipment. Learn more about why we have this requirement in The Red Light District