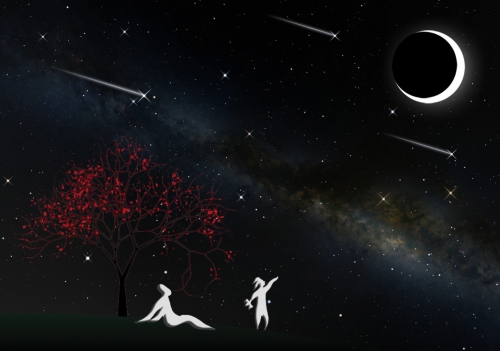 Stargazing Nights - CLOSED
Where:

Frosty Drew Observatory

When:

Fri, Apr 3, 2020 - CLOSED

Cost:

$5 Suggested Donation per person 5 years and older
Tonight is Stargazing Night at Frosty Drew Observatory and forecasts are looking rather grim. We can expect rain tapering off this evening, with cloudy conditions continuing overnight and wind gusts reaching into the 34mph range. All of this spells disaster for stargazing regardless of how it plays out. Sadly, this forecast will keep Frosty Drew closed tonight.
Additionally, Executive Order 20-13, issued on March 28, 2020 has prompted park closures across the state, including Ninigret Park, which is home to Frosty Drew Observatory and Science Center. As a result, we are no longer able to host visitors at Frosty Drew Observatory and Science Center in any onsite capacity. Though we are not shutting down! We will continue to offer our Stargazing Nights event in a remote, online capacity until we can resume onsite operations with visitors, which will include live views of the cosmos using telescopes and cameras as well as live commentary from our astronomers. Visitors will be able to tune in from home, submit questions, and see what our cameras see, all live. Tonight's cloudy conditions will not be acceptable for any online program, so we will remain closed tonight. Though we will be posting information this coming week to our website, Facebook, and Twitter (@FrostyDrewOBSY) about how you can tune in to our online program, submit questions, and get involved. Our target start date for online stargazing will be Friday, April 10, 2020.
Please see our statement on the current COVID-19 situatiuon in Rhode Island. We will commence online Stargazing Nights events this coming week, and will continue with that model until we can reopen our onsite facilities.Be sure to subscribe to the Frosty Drew Observatory mailing list, follow us on Twitter (@FrostyDrewOBSY) or on Facebook to receive status updates about our Stargazing Nights program and more.
Catch up with this weeks celestial happenings, including fabulous conjunctions of Venus and the Pleiades, Comet C2019/Y4 Atlas, and continued evening passes of the ISS in: Celebration of Space
Check out our page on Visiting Frosty Drew Observatory to learn more about what to expect at the Observatory and better help you prepare for your visit.