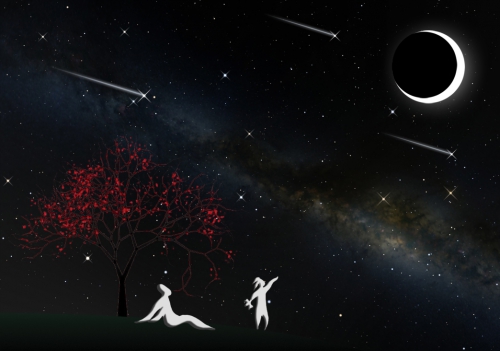 Stargazing Nights - Live Streamed
Where:

Frosty Drew Observatory

When:

Fri, May 1, 2020 8:30 pm - 11:30 pm

Cost:

$5 Suggested Donation per person 5 years and older
Tonight is Stargazing Night at Frosty Drew Observatory and forecasts, for the fourth consecutive Friday, are calling for rain and clouds. We can expect the heavier rain of this morning to clear out early this afternoon, with periods of slightly clearer skies moving in. Though this evening and tonight we can expect periodic showers with mostly cloudy to cloudy conditions. We understand that it's springtime in New England, and that this is pretty much how April works out for us every year, but we were hoping for a break considering we are all working hard to bring the cosmos to you from home.
Regardless, we will still be streaming live tonight and will show limited images captured this past week, as it has been raining pretty much every night this week. We also have archived images that we will show and host discussions about. Since sunset is getting later with each passing day, tonight's live stream will start at 8:30 pm and go until 10:30 pm. On the off chance that one of our astronomers has a clear enough sky over their home, we will switch over to live views. But that is very unlikely.
So grab a drink, sit back on the couch, and escape to the cosmos with us. We have a fabulous archive of images that our astronomers have captured, most from the Frosty Drew Observatory. If you haven't seen these images, then tonight will be a fantastic chance to become introduced. It's also a chance to learn, not just about the cosmos and the objects we are showing, but also to learn how we do it and how you can do it! So tune in and kick off your weekend-at-home celebrations with the stars!
Tonight's Stargazing Nights Live Stream URL: https://youtu.be/Blad3Lok364
Catch up on all the amazing things happening in space this, including the Eta Aquariid Meteor Shower, and Comet C/2020 F8 SWAN in A Celebration of Space - May 1, 2020
Check out our page on Visiting Frosty Drew Observatory to learn more about what to expect at the Observatory and better help you prepare for your visit.