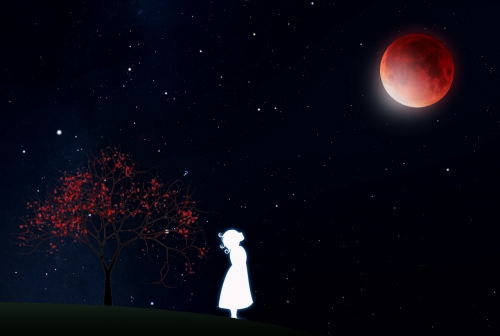 Under A Partial Crimson Moon - CLOSED
Where:

Frosty Drew Observatory

When:

Fri, Nov 19, 2021 - CLOSED

Cost:

$5 Suggested Donation per person 5 years and older
UPDATE: November 18, 2021 at 17:58 ===========
At this time, weather forecasts are calling for fully overcast conditions with rain. We were hoping for an improvement in the forecast, but sadly it is sticking to rain during the eclipse. So we have decided to cancel the event. On the flip side, we are expecting good weather for tomorrow night's First Light Celebration of our new telescope. We'll see you then.
============
On Friday, November 19, 2021 a Partial Lunar Eclipse is taking place and it will be visible to all in New England. This will be an awesome overnight event and Frosty Drew Observatory is opening to celebrate the event starting at 12:30 am offering excellent views of the eclipse. We will stay on site and open until 7:00 am, after the Sun rises.
A Lunar Eclipse happens when the Moon passes into Earth's shadow. This only happens during the full lunar phase. Since this eclipse will be a near-total eclipse, almost the entire Moon will pass into the Earth's dark shadow, called the Umbra, with only a sliver remaining in Earth's secondary shadow, called the Penumbra. During the period around maximum eclipse, some of the Moon will glow a crimson red. This happens due to sunlight filtering through Earth's atmosphere effectively scattering the violet side of the visible spectrum of light.
The eclipse will begin at 1:02 am Friday morning and will start as a dimming of one side of the Moon. At 2:18 am the partial eclipse will begin when a chunk of the Moon will start to appear missing. Greatest eclipse will occur at 4:04 am with the partial eclipse continuing until 5:47 am.
The Frosty Drew Sky Theatre will be open all morning and warm, showing a live stream of the lunar eclipse on the big screen. The Observatory will be open for tours though the main telescope will remain closed. On screen in the Observatory will be a live stream of the lunar eclipse. We will have telescopes setup outside the observatory offering views of the night sky and the lunar eclipse.
Take a moment to check out our gallery of the 2015 Total Lunar Eclipse at Frosty Drew Observatory, and our gallery of the 2019 Wolf Moon Lunar Eclipse.
Dust off those binoculars. Grab a blanket, lawn chair, some tasty eats, family, and friends and hang out with us in Ninigret Park under the near-crimson Moon.
Please note that due to the evolving COVID-19 pandemic, the detail of this event may change. Please check in regularly, both here and on our SARS-CoV-2 page, to stay up to date.