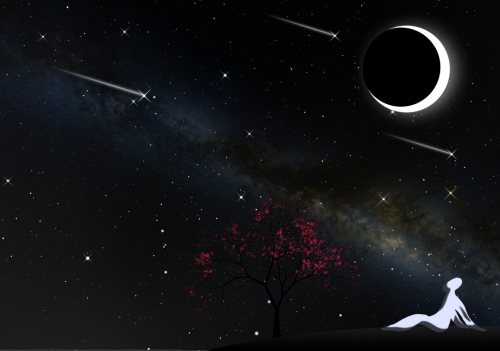 Summer Stargazing Nights
Where:

Frosty Drew Observatory

When:

Fri, Jun 11, 2021 6:30 pm - 10:30 pm

Cost:

$5 Suggested Donation per person 5 years and older. Tickets are NOT required.
Welcome to the Frosty Drew Observatory Summer Stargazing Nights! Every Friday night (weather permitting) we open our Observatory, Science Center, Sky Theatre, and telescopes to the sky and offer free stargazing and astronomy to anybody interested in observing with us.
UPDATE: June 11, 2021 11:45 am ===
Tonight is our first Summer Stargazing Nights event of 2021 and forecasts are looking quite variable, and not too opportunistic. We can expect increasing clouds this afternoon, becoming fully overcast overnight at some point. There are possibilities of a clearing right around sunset that may allow for a quick view, but overall it looks like we may be clouded out. Regardless, we will give it a best-effort-attempt and work with what we have.
We will open the Observatory, Observatory Courtyard, and Science Center at 6:30 pm with our Solar Viewing program. During this time we will have our Hydrogen Alpha and Type II White Light telescopes set up on the lawn for visitors to observe the solar photosphere and solar chromosphere. Once the Sun sets, we will switch into stargazing mode and direct our telescopes towards the fabulous night sky over Frosty Drew. With tonight's Moon only 1 day past New, the super slender 3% waxing crescent Moon will hang in the eastern sky during dusk and will offer a stunning view if clear enough. With the Moon setting so early, we are in for a night of super dark sky conditions, which will open the night to amazing views of star clusters, nebulae, and galaxies. Now all of that sounds awesome, but only applies if weather works with us. Unfortunately, some level of clouds will interfere with our plans of amazement tonight. We are planning to close up at 10:30 pm, but clouds may chase us out earlier.
Overall, tonight has the celestial makings of that perfect night. Super thin crescent Moon at sunset, dark sky conditions, cooler temps, and the longer program of summer. Sadly enough, the weather is just not where we need it to be for that to happen. If making the long drive, tonight is going to be the night to skip. It's just too likely that we will be clouded out. But if you are in the area, and are looking to catch up on some astro geekery, perhaps talk about Thursday's solar eclipse, then stop in for an evening of potentially great viewing, and suffer the clouds with us.
Take a moment to catch up on a fantastic week in space in: A Celebration of Space - June 11, 2021
======
Be sure to subscribe to the (Frosty Drew Observatory mailing list, follow us on Twitter (@FrostyDrewOBSY) or on Facebook to receive status updates about our Summer Stargazing Nights program and more.
With the dynamic and rapidly changing pandemic landscape, site visit requirements will be changing very quickly. At this time, tickets are not required to attend this event, but visitors will have to register their name and phone number upon arrival. Note that we will NOT send anything to your phone number. This is used exclusively for contact tracing matters. We are limiting a maximum of 250 visitors concurrently at our event. If this limit is reached, you will have to either wait in your car or take a night stroll around Ninigret Park until availability opens up. Reading our SARS-CoV-2 Public Statement will get you the most recent information about this matter.
If you are looking for that awesome astronomy thing to do or just want a night out to experience the cosmos under the darkest skies in Rhode Island, then this is your chance.
Check out our page on Visiting Frosty Drew Observatory to learn more about what to expect at the Observatory and better help you prepare for your visit.
Please note that we do not allow any white lights on our campus from dusk - dawn. This is to ensure an equally awesome view of the night sky for all and to allow for the use of light sensitive astronomical equipment. Learn more about why we have this requirement in The Red Light District
To allow for visitors to freely explore all of the amazing experiences at Frosty Drew Observatory and Science Center without having to wait in long lines, we have integrated a pass-based group access process that applies to only the large telescope inside the observatory dome. Take a moment to familiarize yourself with this process as part of your planning steps.
Please note that due to the evolving COVID-19 pandemic, the detail of this event may change. Please check in regularly, both here and on our SARS-CoV-2 page, to stay up to date.