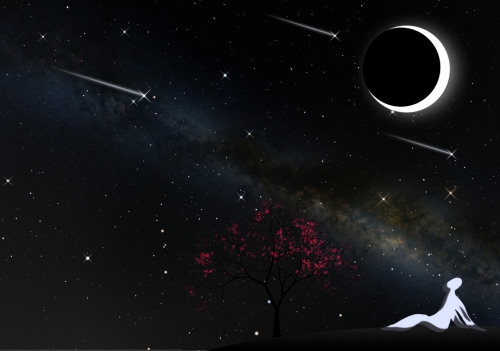 Summer Stargazing Nights
Where:

Frosty Drew Observatory and Science Center

When:

Fri, Jun 18, 2021 6:30 pm - 10:30 pm

Cost:

$5 Suggested Donation per person 5 years and older
Welcome to the Frosty Drew Observatory Summer Stargazing Nights! Every Friday night (weather permitting) we open our Observatory, Science Center, Sky Theatre, and telescopes to the sky and offer free stargazing and astronomy to anybody interested in observing with us.
After days of stunningly beautiful weather, the clouds will move back just in time to crash our geek out. Every forecasting source we use is calling for mostly cloudy to overcast conditions starting this evening and continuing overnight with a chance of showers moving in before midnight. What a frustrating forecast! The 57% waxing gibbous Moon would have been a stunning sight in our telescopes too. But it may be bright enough to observe if clouds aren't too heavy or are patchy enough.
We will open the Observatory, Observatory Courtyard, and Science Center at 6:30 pm this afternoon. If the sky is clear enough, we will start off with views of the Sun in white light and hydrogen alpha. On the solar photosphere, sunspot 2833 has grown quite large and is well placed for observing. This is also the time to check out our telescopes and operations in daylight. Once the Sun sets, we will switch over to nighttime mode and direct our telescopes towards the Moon. At 57% waxing gibbous, some of the best craters will be placed right along the lunar terminator, which is the sunrise line and best region to observe. Binary stars and star clusters are also on our list to observe tonight. Now this is all on the basis that the sky is clear enough to see all that. We will stay open until 10:30 pm.
Overall, tonight's forecast is not looking good. Variability in the forecast is practically non-existent, so clouds will be present. If making the long drive, tonight is the night to skip. If you're in the local area and want to take a chance, there is always the possibility that the sky ends up clearer than expected. Think about all the forecasts for clear nights that end up cloudy. Regardless, we will have our astronomers on hand to chat about the cosmos and our gear will be available for tours and gear-head-geek-outs. So stop in and cloud-shame with us, and perhaps we will catch a view of the Moon.
Take a moment to catch up on some of the amazing things happening in our little sliver of the galaxy in: A Celebration of Space - June 18, 2021
Be sure to subscribe to the (Frosty Drew Observatory mailing list, follow us on Twitter (@FrostyDrewOBSY) or on Facebook to receive status updates about our Summer Stargazing Nights program and more.
With the dynamic and rapidly changing pandemic landscape, site visit requirements will be changing very quickly. At this time, tickets are not required to attend this event, but visitors will have to register their name and phone number upon arrival. Note that we will NOT send anything to your phone number. This is used exclusively for contact tracing matters. We are limiting a maximum of 250 visitors concurrently at our event. If this limit is reached, you will have to either wait in your car or take a night stroll around Ninigret Park until availability opens up. Reading our SARS-CoV-2 Public Statement will get you the most recent information about this matter.
If you are looking for that awesome astronomy thing to do or just want a night out to experience the cosmos under the darkest skies in Rhode Island, then this is your chance.
Check out our page on Visiting Frosty Drew Observatory to learn more about what to expect at the Observatory and better help you prepare for your visit.
Please note that we do not allow any white lights on our campus from dusk - dawn. This is to ensure an equally awesome view of the night sky for all and to allow for the use of light sensitive astronomical equipment. Learn more about why we have this requirement in The Red Light District
To allow for visitors to freely explore all of the amazing experiences at Frosty Drew Observatory and Science Center without having to wait in long lines, we have integrated a pass-based group access process that applies to only the large telescope inside the observatory dome. Take a moment to familiarize yourself with this process as part of your planning steps.
We will update this event listing on the day of the event between Noon and 3:00 pm. The update will describe our plans for the night and what to expect regarding weather and astronomical sights.
Please note that due to the evolving COVID-19 pandemic, the detail of this event may change. Please check in regularly, both here and on our SARS-CoV-2 page, to stay up to date.