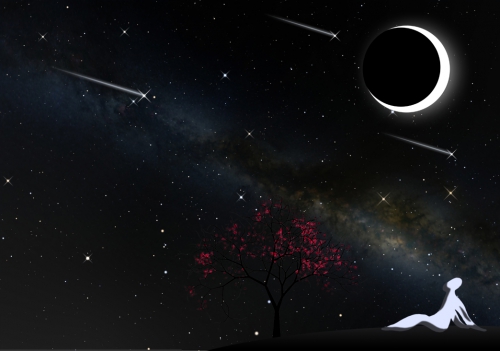 Summer Stargazing Nights - CLOSED
Where:

Frosty Drew Observatory

When:

Fri, Jul 9, 2021 - CLOSED

Cost:

$5 Suggested Donation per person 5 years and older
Welcome to the Frosty Drew Observatory Summer Stargazing Nights! Every Friday night (weather permitting) we open our Observatory, Science Center, Sky Theatre, and telescopes to the sky and offer free stargazing and astronomy to anybody interested in observing with us.
As the story of summer 2021 goes, tonight's forecasts are calling for mostly cloudy sky conditions, fog, showers, and t-storms. Additionally, the super wet campus, after today's tropical storm, will make for muddy ground conditions and potentially hazardous driving conditions due to flooding. Because of the potential flooding issues, we are going to keep the Frosty Drew Observatory and Science Center closed tonight. We will try to open next on Saturday, July 9, 2021 for our Celebrate the Milky Way event.
Be sure to subscribe to the (Frosty Drew Observatory mailing list, follow us on Twitter (@FrostyDrewOBSY) or on Facebook to receive status updates about our Summer Stargazing Nights program and more.
Take a moment to catch up on some awesome happenings in:
A Celebration of Space - July 9, 2021
With the dynamic and rapidly changing pandemic landscape, site visit requirements will be changing very quickly. At this time, tickets are not required to attend this event, but visitors will have to register their name and phone number upon arrival. Note that we will NOT send anything to your phone number. This is used exclusively for contact tracing matters. We are limiting a maximum of 250 visitors concurrently at our event. If this limit is reached, you will have to either wait in your car or take a night stroll around Ninigret Park until availability opens up. Reading our SARS-CoV-2 Public Statement will get you the most recent information about this matter.
If you are looking for that awesome astronomy thing to do or just want a night out to experience the cosmos under the darkest skies in Rhode Island, then this is your chance.
Check out our page on Visiting Frosty Drew Observatory to learn more about what to expect at the Observatory and better help you prepare for your visit.
Please note that we do not allow any white lights on our campus from dusk - dawn. This is to ensure an equally awesome view of the night sky for all and to allow for the use of light sensitive astronomical equipment. Learn more about why we have this requirement in The Red Light District
To allow for visitors to freely explore all of the amazing experiences at Frosty Drew Observatory and Science Center without having to wait in long lines, we have integrated a pass-based group access process that applies to only the large telescope inside the observatory dome. Take a moment to familiarize yourself with this process as part of your planning steps.
Please note that due to the evolving COVID-19 pandemic, the detail of this event may change. Please check in regularly, both here and on our SARS-CoV-2 page, to stay up to date.