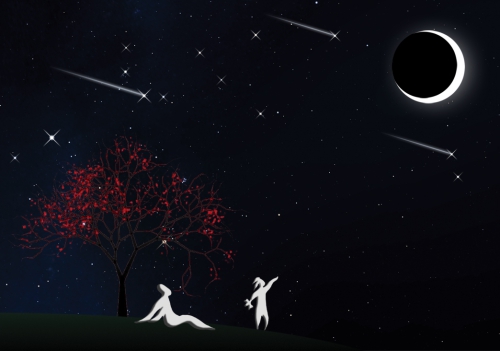 Stargazing Nights
Where:

Frosty Drew Observatory and Science Center

When:

Fri, Nov 5, 2021 7:00 pm - 10:00 pm

Cost:

$5 Suggested Donation per person 5 years and older
Welcome to the Frosty Drew Observatory Stargazing Nights! Every Friday night (weather permitting) we open our Observatory, Science Center, Sky Theatre, and telescopes to the sky and offer free stargazing and astronomy to anybody interested in observing with us.
Tonight's forecasts are calling for clear sky conditions all night long. There is a small threat of fog in the morning hours after 2:00 am, but our regular geek-out session should totally rock tonight. Considering that the New Moon occurred at 9:15 pm last night (November 4, 2021), we are in for a night of fabulously dark sky conditions under thousands of stars! Unfortunately, the new PlaneWave CDK600 telescope is not yet operational, this being our first missed deadline. Though we will have telescopes set up in the Observatory Courtyard that are as good as the old Meade LX200 that was in the dome.
We will open the Observatory, Observatory Courtyard, Science Center, and Sky Theatre at 7:00 pm tonight. In the Observatory, stop in for a view of the new PlaneWave CDK600 telescope. Tours of the new telescope will be available as well as information on what you can expect from this fantastic device! In the Observatory Courtyard we will have two or more telescopes set up showcasing Saturn, Jupiter, Uranus, the Andromeda Galaxy, the Ring Nebula, the Pegasus Cluster, the Iris Nebula, and anything else the sky has in store for us. In the Science Center exhibits will be on display alongside the astro-photographic works of our astronomers. The Sky Theatre will feature a showcase of celestial objects photographed at Frosty Drew Observatory. We will close up around 10:00 pm.
Overall, tonight is certainly the night to make the long drive. With practically no Moon and no clouds, the starscape will be stunning. Though the Milky Way galactic nucleus is no longer visible over our region for the 2021 year, sections of the Milky Way will be visible overhead tonight. It will be cold tonight, colder than it has been at Frosty Drew this autumn, and it will feel much colder than the upper 30 degree temps that we are expecting, due to the wide open landscape. Dressing for winter conditions will keep you the warmest tonight. Regardless, the Sky Theatre and Science Center will be warm and will serve as a good retreat for those who are affected by the cold. In any case, tonight's the night to be out, and if you haven't seen our new telescope yet, then this is a fantastic chance to stop in. So dig out your mittens, hat, boots, and jacket and set out for a night with the cosmos at Frosty Drew, tonight.
Be sure to subscribe to the Frosty Drew Observatory mailing list, follow us on Twitter (@FrostyDrewOBSY) or on Facebook to receive status updates about our Stargazing Nights program and more.
Take a moment to catch on on some amazing space happening in:
A Celebration of Space - November 5, 2021
Check out our page on Visiting Frosty Drew Observatory to learn more about what to expect at the Observatory and to better help you prepare for your visit.
Please note that we do not allow any white lights on our campus from dusk - dawn. This is to ensure an equally awesome view of the night sky for all and to allow for the use of light sensitive astronomical equipment. Learn more about why we have this requirement in The Red Light District.
If you are looking for that awesome astronomy thing to do or just want a night out to experience the cosmos under the darkest sky in Rhode Island, then this is your chance.
Please note that due to the evolving COVID-19 pandemic, the detail of this event may change. Please check in regularly, both here and on our SARS-CoV-2 page, to stay up to date.