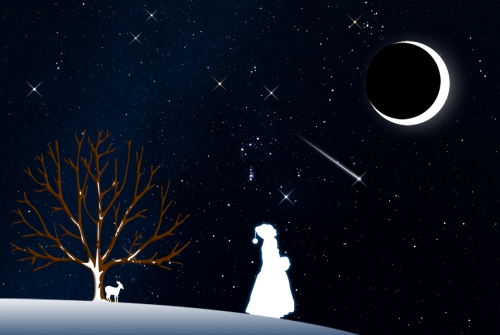 Stargazing Nights - CLOSED
Where:

Frosty Drew Observatory and Science Center

When:

Fri, Feb 4, 2022 - CLOSED

Cost:

$5 Suggested Donation per person 5 years and older
Welcome to the Frosty Drew Observatory Stargazing Nights! Every Friday night (weather permitting) we open our Observatory, Science Center, Sky Theatre, and telescopes to the sky and offer free stargazing and astronomy to anybody interested in observing with us.
As usual of late, inclement weather will crash our observing plans. It is unfortunate that we are missing out on so many fantastic wintertime viewing opportunities. The constellations Orion and Canis Major, which are loaded with so many amazing objects to view, are in prime viewing this time of the year. Add in that tonight's Moon will sport a 17% waxing crescent, and it would have been a stunning night of darker sky conditions coupled with a thin crescent Moon hanging over the SW sky showing off views of Earthshine, which is when sunlight reflecting off of Earth illuminates the nighttime side of the Moon. We will try again next Friday, February 11, 2022, if weather can cut us a break. We'll see you then!
In the meantime catch up on some celestial happenings in our little sliver of the galaxy in:
A Celebration of Space - February 4, 20022
Be sure to subscribe to the Frosty Drew Observatory mailing list, follow us on Twitter (@FrostyDrewOBSY) or on Facebook to receive status updates about our Stargazing Nights program and more.
Check out our page on Visiting Frosty Drew Observatory to learn more about what to expect at the Observatory and to better help you prepare for your visit.
Please note that we do not allow any white lights on our campus from dusk - dawn. This is to ensure an equally awesome view of the night sky for all and to allow for the use of light sensitive astronomical equipment. Learn more about why we have this requirement in The Red Light District.
It is cold at Frosty Drew Observatory during the winter and early spring. Visitors will be completely exposed to the harsh winter environment while standing on frozen ground. Dressing properly is REQUIRED to attend! Lean how the Frosty Drew Astronomers dress for working overnight on the Frosty Drew campus during the winter. Read it! Follow it!
If you are looking for that awesome astronomy thing to do or just want a night out to experience the cosmos under the darkest sky in Rhode Island, then this is your chance.
Please note that due to the evolving COVID-19 pandemic, the detail of this event may change. Please check in regularly, both here and on our SARS-CoV-2 page, to stay up to date.