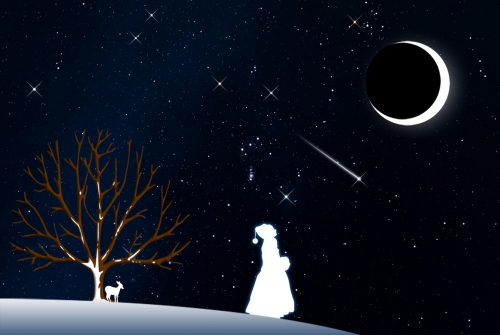 Stargazing Nights
Where:

Frosty Drew Observatory and Science Center

When:

Fri, Mar 4, 2022 7:00 pm - 10:00 pm

Cost:

$5 Suggested Donation per person 5 years and older
Welcome to the Frosty Drew Observatory Stargazing Nights! Every Friday night (weather permitting) we open our Observatory, Science Center, Sky Theatre, and telescopes to the sky and offer free stargazing and astronomy to anybody interested in observing with us.
Tonight we could be in for a fantastic night! Forecasts are calling for clear sky conditions with clouds moving in overnight. Our most reliable sources are calling for a much earlier cloud build up to happen around 9:00 pm, with other sources calling for mostly clear conditions until pre-dawn hours. We'll just have to see for ourselves. As for the Moon, we will have a super thin 10% waxing crescent sitting beautifully over the western horizon until the 7:57 pm set time. The stunning view will include a bright showing of Earthshine, which is when sunlight reflects off Earth and illuminates the night side of the Moon. Being that the Moon is a thin crescent and setting early, dark sky conditions will rock our night!
We'll open the Observatory, Science Center, and Sky Theatre at 7:00 pm tonight. In the Observatory our 24 inch telescope will take advantage of the clear dark sky, which are the conditions at which it excels. On the observing list is the Orion Nebula, the Messier 46 open star cluster, NGC 2392 – a young white dwarf, Hubble's Variable Nebula, R-Lepus (the Vampire Star), Bodes Galaxies, The Ghost of Jupiter, and a host of galaxies that are becoming accessible as we move towards spring. The Sky Theatre will be offering escapes from the cold, and will host a showcase of celestial objects photographed at Frosty Drew Observatory. The Science Center is partially under construction as we continue modifications for our new Messier Catalog Project display, but will still be open with other exhibits available. We'll close up at 10:00 pm.
Overall, tonight looks to be a fantastic night. There is a threat of clouds moving in after 8:00 pm, but most forecasting sources are not calling for that at this time. Keep that in mind if choosing to make the long drive tonight, because everything else looks great. It will be cold tonight, in the upper 20's with a constant wind that will cut right through you if you're not properly dressed. The Observatory building will shield you from most of the wind, but it is not heated and will be the same temperature as the outside air. Dressing inadequately not only affects you, but also everyone else in attendance because your lost heat will radiate out the observatory roof, right past the front of the telescope and will distort our view of the cosmos. Read up on how to dress for tonight's visit here: https://frostydrew.org/publications.dc/show/entry-884/. Now gear up and set out for a fantastic night under thousands of stars at Frosty Drew tonight.
Be sure to subscribe to the Frosty Drew Observatory mailing list, follow us on Twitter (@FrostyDrewOBSY) or on Facebook to receive status updates about our Stargazing Nights program and more.
Take a moment to catch up on some awesome space-based happenings this week in:
A Celebration of Space - March 4, 2022
Check out our page on Visiting Frosty Drew Observatory to learn more about what to expect at the Observatory and to better help you prepare for your visit.
Please note that we do not allow any white lights on our campus from dusk - dawn. This is to ensure an equally awesome view of the night sky for all and to allow for the use of light sensitive astronomical equipment. Learn more about why we have this requirement in The Red Light District.
It is cold at Frosty Drew Observatory during the winter and early spring. Visitors will be completely exposed to the harsh winter environment while standing on frozen ground. Dressing properly is REQUIRED to attend! Lean how the Frosty Drew Astronomers dress for working overnight on the Frosty Drew campus during the winter. Read it! Follow it!
If you are looking for that awesome astronomy thing to do or just want a night out to experience the cosmos under the darkest sky in Rhode Island, then this is your chance.
Please note that due to the evolving COVID-19 pandemic, the detail of this event may change. Please check in regularly, both here and on our SARS-CoV-2 page, to stay up to date.