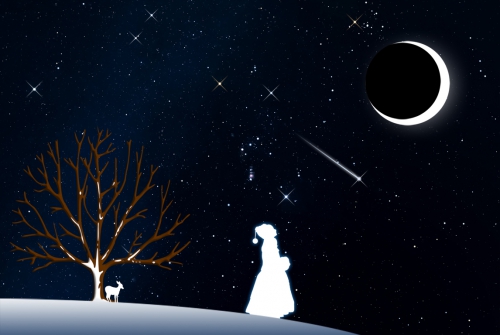 Stargazing Nights
Where:

Frosty Drew Observatory and Science Center

When:

Fri, Mar 11, 2022 7:00 pm - 10:00 pm

Cost:

$5 Suggested Donation per person 5 years and older
Welcome to the Frosty Drew Observatory Stargazing Nights! Every Friday night (weather permitting) we open our Observatory, Science Center, Sky Theatre, and telescopes to the sky and offer free stargazing and astronomy to anybody interested in observing with us.
Tonight's forecasts have degraded over the past 24 hours. What looked like a pretty good forecast for most of the week has changed to expectation for increasing clouds. There is a lot of variability in the forecast, specifically when and how heavy cloud increases will be, but it appears that there will be some level of cloud interference tonight. With the Moon sporting a 65% waxing gibbous phase, it could serve as a good fall back if clouds are not too heavy. The best times to observe the Moon are during the 60% - 90% waxing gibbous intermediate phase, as the terminator (where sunlight starts and night ends) will have some of the most dramatic craters along it. Along the terminator, shadows are cast at their most extreme angle, allowing for a fantastic view of depth of field. The Moon will not set until 3:05 am tomorrow morning, and will be with us for our entire session.
We will open the Observatory, Science Center, and Sky Theatre at 7:00 pm tonight. In the Observatory we will direct the 24 inch telescope towards the waxing gibbous Moon, showcasing craters, maria and other lunar features. In the Sky Theatre we will feature a showcase of celestial objects photographed at Frosty Drew Observatory. The Science Center is still under partial construction, but will be open with some exhibits on display. We will close up at 10:00 pm or when clouds push us out.
Overall, tonight is probably not the night to make the long drive. We have too much of a threat for cloud cover. Though the Moon will serve as a nice bail out if clouds aren't too heavy. Additionally, at 65% waxing gibbous, the Moon is bright enough to allow for a faint 22° lunar halo, and with the coming storm, this is certainly a possibility tonight. If you're in the local area, and have a free night, stop in and catch a view of the Moon, and get into a discussion with our astronomers about our little sliver of the galaxy.
Be sure to subscribe to the Frosty Drew Observatory mailing list, follow us on Twitter (@FrostyDrewOBSY) or on Facebook to receive status updates about our Stargazing Nights program and more.
Take a moment to catch up on some happenings in our little sliver of the galaxy in:
A Celebration of Space - March 11, 2022
Check out our page on Visiting Frosty Drew Observatory to learn more about what to expect at the Observatory and to better help you prepare for your visit.
Please note that we do not allow any white lights on our campus from dusk - dawn. This is to ensure an equally awesome view of the night sky for all and to allow for the use of light sensitive astronomical equipment. Learn more about why we have this requirement in The Red Light District.
It is cold at Frosty Drew Observatory during the winter and early spring. Visitors will be completely exposed to the harsh winter environment while standing on frozen ground. Dressing properly is REQUIRED to attend! Lean how the Frosty Drew Astronomers dress for working overnight on the Frosty Drew campus during the winter. Read it! Follow it!
If you are looking for that awesome astronomy thing to do or just want a night out to experience the cosmos under the darkest sky in Rhode Island, then this is your chance.
Please note that due to the evolving COVID-19 pandemic, the detail of this event may change. Please check in regularly, both here and on our SARS-CoV-2 page, to stay up to date.