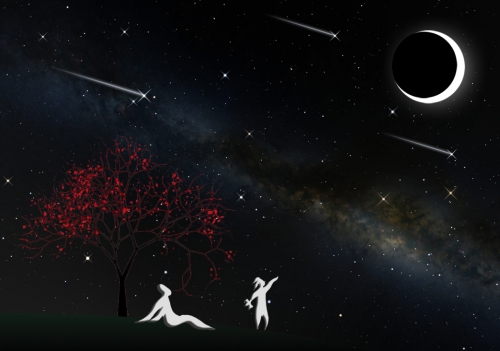 Stargazing Nights
Where:

Frosty Drew Observatory and Science Center

When:

Fri, Apr 22, 2022 8:00 pm - 10:30 pm

Cost:

$5 Suggested Donation per person 5 years and older
Welcome to the Frosty Drew Observatory Stargazing Nights! Every Friday night (weather permitting) we open our Observatory, Science Center, Sky Theatre, and telescopes to the sky and offer free stargazing and astronomy to anybody interested in observing with us.
Tonight's forecasts look amazing tonight! We can expect clear sky conditions with temps hovering around 50°F, and a light wind. Considering that the 48% waning crescent Moon does not rise until 2:32 am, we will also have super dark sky conditions to celebrate. Being that April and May make up galaxy season, we will have perfect conditions to hunt down the dimmest of objects out there.
We will open the Observatory, Courtyard, Science Center, and Sky Theatre at 8:00 pm tonight. In the Observatory, the large 24 inch telescope will hunt down galaxies, nebulae, and star clusters. On our list is Messier 51 – The Whirlpool Galaxy, Messier 82 – The Cigar Galaxy, Messier 64 – The Black Eye Galaxy, Messier 104 – The Sombrero Galaxy, globular star clusters: Messier 53, Messier 3; white dwarf stars: Messier 97 (The Owl Nebula), NGC 2392, NGC 3242 (The Ghost of Jupiter); the Corvus Stargate cluster, and more. In the Observatory Courtyard, telescopes will hunt down any of the thousands of objects visible tonight. In the Science Center, exhibits will be on display including a rocket that has actually been to space, and the re-introduction and upgrade of our 12 foot wide Apollo 11 landing site panorama. In the Sky Theatre we will show a feature of celestial objects photographed at Frosty Drew Observatory. We will close up at 10:30 pm.
Overall, tonight is one of those nights where everything works out perfectly! If making the long drive, tonight is the night to do it. Note that we will be under twilight until 9:00 pm, and when we open it will still be quite bright out. It is also our down season, the time of the year we (usually) see the least number of visitors, so we will be a bit scaled down on staff and there WILL be lines to access telescopes. Though thousands of stars will stretch the starscape tonight once twilight ends, and standing under that sky will blow your mind! So make tonight the night you meet that inner geek that's been waiting to break free, and head out to Frosty Drew for a night under thousands of stars.
Take a moment to catch up on some happenings in space and astronomy this week in:
A Celebration of Space - April 22, 2022
Be sure to subscribe to the Frosty Drew Observatory mailing list, follow us on Twitter (@FrostyDrewOBSY) or on Facebook to receive status updates about our Stargazing Nights program and more.
Check out our page on Visiting Frosty Drew Observatory to learn more about what to expect at the Observatory and to better help you prepare for your visit.
Please note that we do not allow any white lights on our campus from dusk - dawn. This is to ensure an equally awesome view of the night sky for all and to allow for the use of light sensitive astronomical equipment. Learn more about why we have this requirement in The Red Light District.
It is cold at Frosty Drew Observatory during the winter and early spring. Visitors will be completely exposed to the harsh winter environment while standing on frozen ground. Dressing properly is REQUIRED to attend! Lean how the Frosty Drew Astronomers dress for working overnight on the Frosty Drew campus during the winter. Read it! Follow it!
If you are looking for that awesome astronomy thing to do or just want a night out to experience the cosmos under the darkest sky in Rhode Island, then this is your chance.
Please note that due to the evolving COVID-19 pandemic, the detail of this event may change. Please check in regularly, both here and on our SARS-CoV-2 page, to stay up to date.