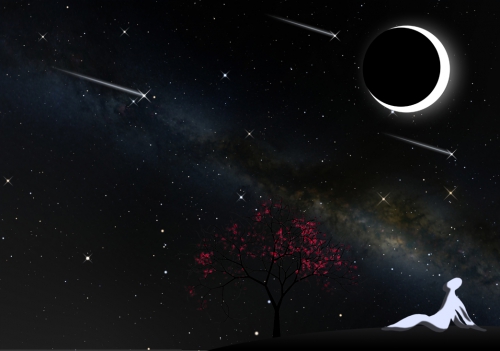 Summer Stargazing Nights
Where:

Frosty Drew Observatory and Science Center

When:

Fri, Jun 17, 2022 6:30 pm - 11:00 pm

Cost:
Welcome to the Frosty Drew Observatory Summer Stargazing Nights! Every Friday night (weather permitting) we open our Observatory, Sky Theatre, and telescopes to the skies and offer free stargazing and astronomy to anybody interested in observing with us.
Tonight's forecasts are looking fantastic! After a cloudy, humid day of t-storms; cooler, dryer air will move into the region leaving the sky clear to celebrate the cosmos. Considering that the Full Strawberry Moon happened this past Tuesday, the Moon is rising later with each passing night. Tonight's 85% waning gibbous Moon will not rise until near midnight. Even though the lack of the Moon will make sky conditions nice and dark, the late sunset will cause twilight to linger past 10:00 pm. So dark sky viewing will be limited tonight. Regardless, visitors that stay past 10:30 pm will likely catch a brief view of the Milky Way rising over the Southeast treeline.
We will open the Observatory, Courtyard, Science Center, and Sky Theatre at 6:30 pm this afternoon. In the Courtyard, we will have our solar telescopes set up on the Sun. This past week, the Sun has been putting on quite a show with intense sunspot and flare activity. If you haven't seen the Sun in our telescopes, then today is the day to do so! Sunspots, prominence, filaments, and more will certainly be visible. Once the Sun sets we will switch over to stargazing mode. In the Courtyard, telescopes will be set up and hunting down binary stars, nebulae, star clusters, and galaxies. In the Observatory the 24 inch PlaneWave telescope will show off its prowess with views of Messier 5 – The Rose Cluster, the Corvus Stargate, The Great Hercules Cluster, The Ring Nebula – a young white dwarf, Comet C/2017 K2 PanSTARRS, and more. The Lunar Lounge will host our new live stacking telescope station with a live projection of binary stars, and when it gets darker the Messier 104 galaxy. The Science Center will be open with exhibits on display, and the Sky Theatre will show our updated feature of celestial objects photographed at Frosty Drew, including images captured with the new PlaneWave telescope. We will close up at 11:00 pm.
Overall, tonight looks fantastic! It may be a bit damp from late afternoon t-storms, and wind will be low tonight, which will allow dew to settle. With the Summer Solstice happening this coming week, we are currently experiencing super late sunsets, which will linger well into our night. Though once twilight wanes, the sky will blaze with thousands of stars. If making the long drive, tonight could be a good opportunity. In any case, stop in and celebrate the last nights of spring under the darkest sky in the area, at Frosty Drew tonight.
Tickets are required for visitors to attend this event. Tickets are free, though a suggested donation of $5 per person, at the event, is very appreciated. Tickets can be acquired here.
Take a moment to catch up on some happenings in space this week in:
A Celebration of Space - June 17, 2022
If you are looking for that awesome astronomy thing to do or just want a night out to experience the cosmos under the darkest skies in Rhode Island, then this is your chance.
Be sure to subscribe to the Frost Drew Observatory mailing list, follow us on Twitter (@FrostyDrewOBSY) or on Facebook to receive status updates about our Summer Stargazing Nights program and more.
Preparing for Your Visit:
Check out our page on Visiting Frosty Drew Observatory to learn more about what to expect at the Observatory and better help you prepare for your visit.
Please note that we do not allow any white lights on our campus from dusk - dawn. This is to ensure an equally awesome view of the night sky for all and to allow for the use of light sensitive astronomical equipment. Learn more about why we have this requirement in The Red Light District.