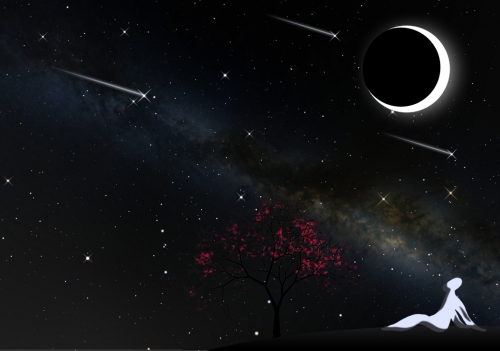 Summer Stargazing Nights - SOLD OUT
Where:

Frosty Drew Observatory and Science Center

When:

Fri, Aug 19, 2022 6:30 pm - 11:00 pm

Cost:

This event has SOLD OUT
Welcome to the Frosty Drew Observatory Summer Stargazing Nights! Every Friday night (weather permitting) we open our Observatory, Sky Theatre, and telescopes to the skies and offer free stargazing and astronomy to anybody interested in observing with us.
Tonight's forecasts are looking quite variable. We can expect anything from clearer sky conditions to partly cloudy, depending on forecasting source. There really isn't a solid consensus on what will happen regarding weather tonight, and 50/50 is better than many of the nights that work out for us. Considering that the 45% waning crescent Moon does not rise until 11:46 pm, we will have super dark sky conditions to celebrate. So we will open tonight on our regular stargazing schedule and hope for the best.
We'll open the Observatory, Courtyard, Science Center, and Sky Theatre at 6:30 pm this afternoon. In the Courtyard we will have our solar telescopes set up, offering stunning views of the solar photosphere and chromosphere. The Sun has been quite active this week, and several sunspot groups are in view, and well worth a look. During this time, tours of the new 24 inch PlaneWave telescope will be available in the Observatory, as well as exhibits in the Science Center, and a feature of select objects photographed by our astronomy team in the Sky Theatre. Once the Sun sets we will switch over to stargazing mode. The 24 inch telescope will hunt down any objects that are visible, depending on how cloudy the sky is. On our list is Albireo, the Ring Nebula, the Messier 27 white dwarf, the Messier 22 globular star cluster, and eventually Saturn. Courtyard telescopes will also hunt down nebulae and star clusters tonight as well as offer up views of Saturn to those who miss out in the dome. We will close up at 11:00 pm.
Overall tonight is a risky night. As for dark sky conditions, it is a beautiful night, and the Milky Way could be strikingly visible. Though the threat of clouds could ruin all of that. If making the long drive, please understand that risk, as you may arrive to a clouded out sky. On the flip side, the Milky Way has been lingering nicely over our location into August this year, and we have had some enjoyable views of it on the clearer nights this past week. So if you missed out on a view of the Milky Way this year, you may want to make the attempt tonight, as the view could be stunning if weather works out. So celebrate the last weekends of summertime, before school kicks back in, with a night under the stars at Frosty Drew tonight.
THIS EVENT HAS SOLD OUT
If you do not have a ticket, you cannot attend tonight's event. Please do not just show up and argue with our astronomers. That is just not cool! There will be several other events this summer.
If you are looking for that awesome astronomy thing to do or just want a night out to experience the cosmos under the darkest skies in Rhode Island, then this is your chance.
Take a moment to catch up on some amazement in space this week in:
A Celebration of Space - August 19, 2022
Be sure to subscribe to the Frost Drew Observatory mailing list, follow us on Twitter (@FrostyDrewOBSY) or on Facebook to receive status updates about our Summer Stargazing Nights program and more.
Preparing for Your Visit:
Check out our page on Visiting Frosty Drew Observatory to learn more about what to expect at the Observatory and better help you prepare for your visit.
Please note that we do not allow any white lights on our campus or in Ninigret Park from dusk - dawn, with the exception of low bean headlights while in motion. This is to ensure an equally awesome view of the night sky for all and to allow for the use of light sensitive astronomical equipment. Learn more about why we have this requirement in The Red Light District.