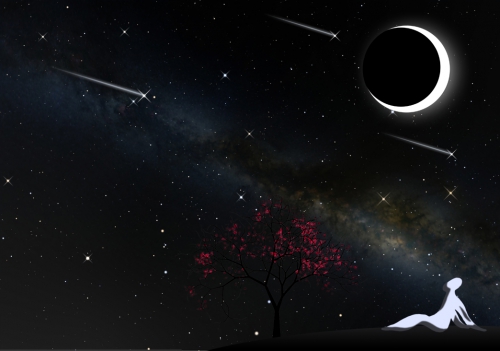 Summer Stargazing Nights
Where:

Frosty Drew Observatory and Science Center

When:

Fri, Aug 26, 2022 7:00 pm - 11:00 pm

Cost:
Welcome to the Frosty Drew Observatory Summer Stargazing Nights! Every Friday night (weather permitting) we open our Observatory, Sky Theatre, and telescopes to the skies and offer free stargazing and astronomy to anybody interested in observing with us.
Tonight's forecasts are looking rather sketchy. Sky conditions will improve as the night progresses, but we will start out with mostly cloudy conditions and a threat of passing thunderstorms. This is super unfortunate considering that the New Moon occurs overnight tonight at 4:17 am, which will leave the sky super dark all night long. The last views of the Milky Way for the season are happening right now at Frosty Drew and the New Moon is the best night to be out. With all of this in mind, we will open tonight, but on a modified schedule as we account for cloudier conditions.
We'll open the Observatory, Science Center, and Sky Theatre at 7:00 pm tonight. In the Observatory tours of our 24 inch PlaneWave telescope will be available with the lights on. If the sky clears out enough we will open drop in an eyepiece and check out whatever the sky has to offer including views of Saturn's rings and Jupiter's Galilean Moons. In the Sky Theatre, NASA Solar System Ambassador, Frank Puglia will be presenting in the achievements of the James Webb Space Telescope. In the Science Center, exhibits will be on display including new images that were added this week to our Project Messier display. Which is a project that the Frosty Drew Astronomy Team has been working on to re-image the Messier Catalog, which is the most popular astronomical catalog of deep sky objects in the Northern Hemisphere. We will close up at 11:00 pm.
Overall, tonight is quite risky. The forecast is improving as the day progresses, and most severe weather is forecast for interior Southern New England, and not so much coastal. Though audible thunder will require us to clear out of the dome due to the threat of a lightning strike. If making the long drive, we would recommend against it due to the likelihood of cloudy conditions. But on the flip side, we have no Moon all night long, and the Milky Way is still quite visible over Frosty Drew. If the sky is on the clearer side, we could have stunning views of thousands of stars silhouetted by the Milky Way. Additionally, Frank Puglia is a fantastic presenter and those who have experienced his presentations will rave about him. If deciding to visit keep in mind that it is a risky night. Otherwise, stop in and catch up in the James Webb Space Telescope with Frank, check out our new PlaneWave telescope, geek out in the Science Center, and join with our astronomers in hoping for a clearing.
Tickets are required for visitors to attend this event. Tickets are free, though a suggested donation of $5 per person, at the event, is very appreciated.
Get tickets for tonights event here
Take a moment to catch up on some astronomy news this week in:
A Celebration of Space - August 26, 2022
If you are looking for that awesome astronomy thing to do or just want a night out to experience the cosmos under the darkest skies in Rhode Island, then this is your chance.
Be sure to subscribe to the Frost Drew Observatory mailing list, follow us on Twitter (@FrostyDrewOBSY) or on Facebook to receive status updates about our Summer Stargazing Nights program and more.
Preparing for Your Visit:
Check out our page on Visiting Frosty Drew Observatory to learn more about what to expect at the Observatory and better help you prepare for your visit.
Please note that we do not allow any white lights on our campus or in Ninigret Park from dusk - dawn, with the exception of low bean headlights while in motion. This is to ensure an equally awesome view of the night sky for all and to allow for the use of light sensitive astronomical equipment. Learn more about why we have this requirement in The Red Light District.