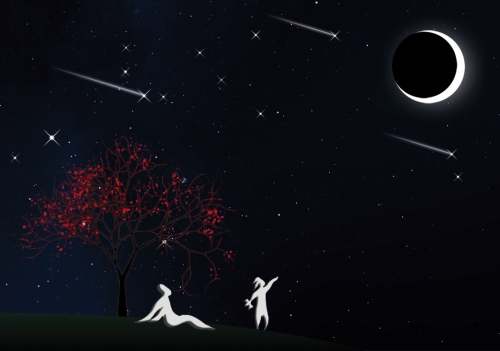 Stargazing Nights - SOLD OUT
Where:

Frosty Drew Observatory and Science Center

When:

Fri, Sep 16, 2022 8:00 pm - 10:30 pm

Cost:

This Event has SOLD OUT
Welcome to the Frosty Drew Observatory Stargazing Nights! Every Friday night (weather permitting) we open our Observatory, Science Center, Sky Theatre, and telescopes to the skies and offer free stargazing and astronomy to anybody interested in observing with us.
Tonight's forecasts are somewhat all over the place. Some sources are calling for clear sky conditions with other sources calling for mostly cloudy conditions. Our two most reliable forecast sources are contradicting each other, which leads us to think that there will be some level of clouds that we will be dealing with tonight. Considering that the 61% waning gibbous Moon does not rise until 10:19 pm, we can score some super dark sky conditions. All we need is for clouds to stay out. Though even through thin cloud cover, Saturn and Jupiter will look fantastic.
We will open the Observatory, Courtyard, and Science Center tonight at 8:00 pm. In the Observatory and Observatory Courtyard our telescopes will showcase Saturn, Jupiter, nebulae, and star clusters. In the Science Center, exhibits will be on display alongside images of the cosmos captured by Frosty Drew Astronomy Team members. The Sky Theatre will remain closed tonight for renovations and upgrades to the theatre. We will close up at 10:30 pm.
Overall, tonight has the potential to be an amazing night, if clouds stay out. We do have a bit of wildfire smoke from wildfires in the Pacific Northwest, which will haze out the sky a bit. But most of the smoke should move out before our geek out kicks in. If making the long drive, it should be noted that clouds could move in at any time and wreak havoc on our plans, though we do not think clouds will obscure the planets. Additionally, now that Jupiter is rising quite early, we will be able to get a view of the gas giant in the big telescope later in the night. So swing by and celebrate the last weekend of summer with the planets at Frosty Drew tonight.
Take a moment to catch up with some weekly astro-happenings in:
A Celebration of Space - September 16, 2022
THIS EVENT HAS SOLD OUT
If you do not have a ticket, you cannot attend tonight's event. Please do not just show up and argue with our astronomers. That is just not cool! There will be several other events this summer.
If you are looking for that awesome astronomy thing to do or just want a night out to experience the cosmos under the darkest skies in Rhode Island, then this is your chance.
Be sure to subscribe to the Frost Drew Observatory mailing list, follow us on Twitter (@FrostyDrewOBSY) or on Facebook to receive status updates about our Summer Stargazing Nights program and more.
Preparing for Your Visit:
Check out our page on Visiting Frosty Drew Observatory to learn more about what to expect at the Observatory and better help you prepare for your visit.
Please note that we do not allow any white lights on our campus or in Ninigret Park from dusk - dawn, with the exception of low bean headlights while in motion. This is to ensure an equally awesome view of the night sky for all and to allow for the use of light sensitive astronomical equipment. Learn more about why we have this requirement in The Red Light District.