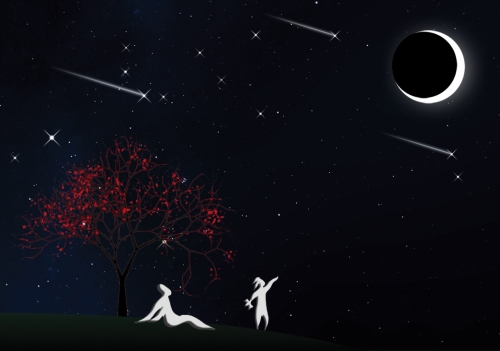 Stargazing Nights - SOLD OUT
Where:

Frosty Drew Observatory and Science Center

When:

Fri, Sep 23, 2022 7:30 pm - 10:30 pm

Cost:

This Event has SOLD OUT
Welcome to the Frosty Drew Observatory Stargazing Nights! Every Friday night (weather permitting) we open our Observatory, Science Center, Sky Theatre, and telescopes to the skies and offer free stargazing and astronomy to anybody interested in observing with us.
Tonight's forecasts are calling for clear sky conditions with much cooler temps, and a bit of wind. Considering that the 2% waning crescent Moon does not rise until 5:00 am tomorrow morning, we will have super dark sky conditions for the entire night. Wind will be a bit blustery, with gusts reaching into the 30 mph range, which will certainly hinder some of our views in the telescope. Though to the naked-eye, the sky should look amazing!
We will open the Observatory, Courtyard, and Science Center at 7:30 pm tonight. In the Observatory and Observatory Courtyard our telescopes will hunt down nebulae and star clusters. Our Courtyard telescope will showcase Saturn, and Jupiter. Later in the night, Jupiter's Great Red Spot will be visible alongside a transit of Io's shadow. This happens when Galilean Moon Io passes in between Jupiter and the Sun, causing a shadow of the moon to cast on Jupiter's cloud tops. The primary observatory telescope will show the Ring Nebula, the Messier 56 Globular Cluster, Messier 27 white dwarf, and more. We will close up at 10:30 pm. In the Science Center, exhibits and images of celestial objects will be on display. The Sky Theatre will remain closed for ongoing upgrades.
Overall, tonight looks like an amazing night. The sky will be clear, the Moon will be out of view, and temps will be nice and cool. Having clear sky conditions and no Moon, sets the stage for a fabulous view of thousands of stars alongside the departing view of the summertime Milky Way. The cooler temps and wind will make views in our telescopes a bit blurry due to atmospheric instability, though lower magnification will make up for this anomaly. If making the long drive, tonight could be worth the trip as views to the sky will be breathtaking. So pack a windbreaker, sweater, and hat, then head out to Frosty Drew Observatory and Science Center and celebrate the first weekend of autumn with a stunning view of the night sky.
THIS EVENT HAS SOLD OUT
If you do not have a ticket, you cannot attend tonight's event. Please do not just show up and argue with our astronomers. That is just not cool! There will be several other events this autumn.
Take a moment to catch up on some awesome astro-happenings this weekend and coming week in:
A Celebration of Space - September 23, 2022
If you are looking for that awesome astronomy thing to do or just want a night out to experience the cosmos under the darkest skies in Rhode Island, then this is your chance.
Be sure to subscribe to the Frost Drew Observatory mailing list, follow us on Twitter (@FrostyDrewOBSY) or on Facebook to receive status updates about our Summer Stargazing Nights program and more.
Preparing for Your Visit:
Check out our page on Visiting Frosty Drew Observatory to learn more about what to expect at the Observatory and better help you prepare for your visit.
Please note that we do not allow any white lights on our campus or in Ninigret Park from dusk - dawn, with the exception of low bean headlights while in motion. This is to ensure an equally awesome view of the night sky for all and to allow for the use of light sensitive astronomical equipment. Learn more about why we have this requirement in The Red Light District.