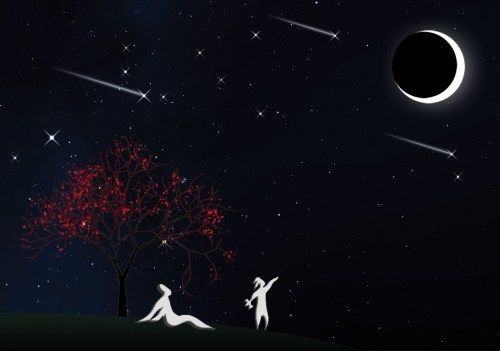 Stargazing Nights
Where:

Frosty Drew Observatory and Science Center

When:

Fri, Dec 2, 2022 7:00 pm - 10:00 pm

Cost:

This Event has Ended
Welcome to the Frosty Drew Observatory Stargazing Nights! Every Friday night (weather permitting) we open our Observatory, Science Center, Sky Theatre, and telescopes to the skies and offer free stargazing and astronomy to anybody interested in observing with us.
Tonight's forecasts are calling for mostly clear conditions with increasing clouds overnight. We could see some thinner clouds pass over during our event, but the bright 75% waxing gibbous Moon, and the planets should be visible through thin clouds. Additionally, thinner cloud cover will make for better views of Mars and Jupiter as it will dim the view down a bit, allowing for easier viewing of surface features. Temps will be increasing as the night progresses, with a steady 42º predicted for our event times. Wind could get a bit blustery, which will make it feel a bit colder, so wearing a good wind breaking jacket will make a huge difference in comfort levels.
We will open the Observatory, Courtyard, Science Center, and Sky Theatre at 7:00 pm tonight. In the Observatory, the large 24 inch telescope will show off the Moon, Jupiter, Mars, a handful of binary stars, and a few carbon stars. If the wind is acceptable, we may have a courtyard telescope set up as well showing off the night sky. In the Science Center, exhibits will be on display alongside astro photos captured by the Frosty Drew Astronomy Team. In the Sky Theatre, we will show a feature of celestial objects photographed at Frosty Drew Observatory. We'll close up at 10:00 pm.
Overall, tonight is questionable. We have a threat of increasing clouds that may start creeping in during our event. But the bright gibbous Moon will outshine the dark sky anyway. A sky of thousands of stars will not be the case tonight, and the Milky Way will be too dim to compete with Moon light. Though Mars' opposition is six days away, which places us in the best time frame for viewing right now, and Mars is bright enough to contend with thinner cloud cover. So grab a windbreaker, hat, and sweater. Take a risk and head out to Frosty Drew Observatory and Science Center for a night with the Moon, Jupiter, and Mars.
Tickets are required for visitors to attend this event. Tickets are free, though a suggested donation of $5 per person, at the event or onsite, is very appreciated.
If you are looking for that awesome astronomy thing to do or just want a night out to experience the cosmos under the darkest skies in Rhode Island, then this is your chance.
Take a moment to catch up on some amazing astronomical opportunities in the coming days in:
A Celebration of Space - December 2, 2022
Be sure to subscribe to the Frost Drew Observatory mailing list, follow us on Twitter (@FrostyDrewOBSY) or on Facebook to receive status updates about our Stargazing Nights program and more.
Preparing for Your Visit:
Check out our page on Visiting Frosty Drew Observatory to learn more about what to expect at the Observatory and better help you prepare for your visit.
Please note that we do not allow any white lights on our campus or in Ninigret Park from dusk - dawn, with the exception of low bean headlights while in motion. This is to ensure an equally awesome view of the night sky for all and to allow for the use of light sensitive astronomical equipment. Learn more about why we have this requirement in The Red Light District.