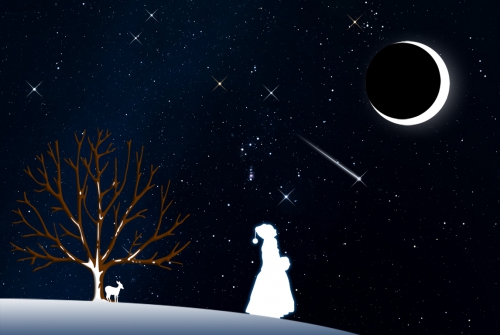 Stargazing Nights
Where:

Frosty Drew Observatory and Science Center

When:

Fri, Jan 27, 2023 7:00 pm - 10:00 pm

Cost:
Welcome to the Frosty Drew Observatory Stargazing Nights! Every Friday night (weather permitting) we open our Observatory, Science Center, Sky Theatre, and telescopes to the skies and offer free stargazing and astronomy to anybody interested in observing with us.
After several weeks of clouds, it appears that we will have our first opening of 2023 tonight. The forecast is somewhat variable, with some sources calling for periods of mostly cloudy conditions during our open hours, though other sources are calling for clearer conditions. We think there will be some level of clouds that we will be dealing with, but hopefully they will remain minimal. We also have the 40% waxing crescent Moon present until midnight, which will offer up views through thinner cloud cover.
We will open the Observatory, Science Center, and Sky Theatre at 7:00 pm tonight. In the Observatory, we will direct our 24 inch telescope towards Jupiter, Mars, the Orion Nebula, the Moon, Comet E3 ZTF, and more. In the Sky Theatre we will show an onscreen feature of celestial objects photographed at the Frosty Drew Observatory. In the Science Center we will have exhibits on display alongside the works of our Astronomy Team. We will stay open until 10:00 pm.
Overall, tonight's forecast isn't perfect, but it's much better than anything we have had yet in 2023. There will be a little wind present, which will make it feel a bit colder, but temps will certainly be comfortable for late January. Regardless, dressing for winter conditions will be necessary. If making the long drive tonight it could be worth it if the sky is clearer, but it is risky as the sky could cloud out. With how dismal the weather has been in 2023, we would say to take what you can get. So stop in tonight and have a moment with the cosmos and perhaps catch a glimpse of Comet C/2022 E3 ZTF at Frosty Drew tonight.
If you are looking for that awesome astronomy thing to do or just want a night out to experience the cosmos under the darkest skies in Rhode Island, then this is your chance.
Take a moment to catch up on some celestial happenings this week in:
A Celebration of Space - January 27, 2023
Be sure to subscribe to the Frost Drew Observatory mailing list, follow us on Twitter (@FrostyDrewOBSY) or on Facebook to receive status updates about our Stargazing Nights program and more.

Preparing for Your Visit:
Check out our page on Visiting Frosty Drew Observatory to learn more about what to expect at the Observatory and better help you prepare for your visit.
How to Dress for Winter Conditions: The Frosty Drew Observatory is not climate controlled, and the temperatures inside the dome need to match the outside air temperature for a stable telescopic view. Frosty Drew Astronomy Team members dress in layers during the winter and for a very good reason. You should consider doing the same. Please read Dressing for All-Night Winter Stargazing to familiarize yourself with adequate dressing measures.
Please note that we do not allow any white lights on our campus or in Ninigret Park from dusk - dawn, with the exception of low beam headlights while in motion. This is to ensure an equally awesome view of the night sky for all and to allow for the use of light sensitive astronomical equipment. Learn more about why we have this requirement in The Red Light District.