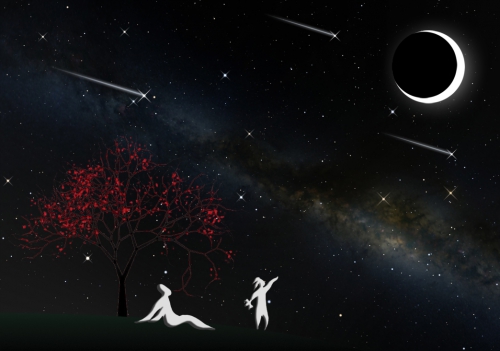 Stargazing Nights
Where:

Frosty Drew Observatory and Science Center

When:

Fri, May 5, 2023 8:00 pm - 10:30 pm

Cost:
Welcome to the Frosty Drew Observatory Stargazing Nights! Every Friday night (weather permitting) we open our Observatory, Science Center, Sky Theatre, and telescopes to the skies and offer free stargazing and astronomy to anybody interested in observing with us.
Tonight's forecasts are calling for mostly cloudy conditions earlier in the evening, with the sky becoming progressively clearer as the night continues. We are expecting near clear sky conditions as we move through the second half of our stargazing geek out. Considering that the full Moon will accompany us tonight, the sky will be significantly bright with moonlight. The Moon will also serve as a good fallback in between passing clouds. We also have the peak of the annual Eta Aquariid Meteor Shower happening overnight tonight. Sadly, the full Moon will block nearly all Eta Aquariid meteors, except for the brightest ones.
We'll open the Observatory, Science Center, and Sky Theatre at 8:00 pm tonight. In the Observatory our 24 inch telescope will try for views of Venus through the clouds. Venus is so bright that observing through thinner cloud cover will significantly improve the view. The full Moon will be too low on the horizon for the main telescope to view, but our Courtyard telescopes will offer views of the Moon. Once Venus gets too low on the horizon, we will switch to binary star viewing, with a handful of fabulous binary star systems to observe. In the Science Center, we will have exhibits on display alongside select images of astronomical objects captured by the Frosty Drew Astronomy Team. In the Sky Theatre we will show our regular feature of celestial images captured at Frosty Drew Observatory. We'll close up at 10:30 pm.
Overall, tonight has potential, but there are a lot of caveats. First, it will be pretty cloudy to start, but should clear out early enough to catch a good view of the sky. The forecast is a bit variable in regards to when and how much the sky will clear, and this type of variability usually favors us at Frosty Drew. The second issue tonight is the full Moon, which will be excessively bright, and will outshine nearly everything else in the sky aside from Venus, and brighter stars. If making the long drive, we would say to sit this one out. But if the Moon is your crush, then tonight could be your night. So swing by the Observatory and bask in the light of the full Moon.
Tickets are not required for visitors to attend this event.
If you are looking for that awesome astronomy thing to do or just want a night out to experience the cosmos under the darkest skies in Rhode Island, then this is your chance.
Take a moment to catch up on some fantastic celestial happenings in:
A Celebraton of Space - May 5, 2023
Be sure to subscribe to the Frost Drew Observatory mailing list, follow us on Twitter (@FrostyDrewOBSY) or on Facebook to receive status updates about our Stargazing Nights program and more.

Preparing for Your Visit:
Check out our page on Visiting Frosty Drew Observatory to learn more about what to expect at the Observatory and better help you prepare for your visit.
How to Prepare for Springtime Conditions: The Frosty Drew Observatory is located inside Ninigret Park and borders the Ninigret National Wildlife Refuge. Insects and arachnids are a concern when visiting the Frosty Drew campus. We have observed mosquitoes, green head flies, deer flies, ticks, biting ants, and more. Please read the Mosquitoes and Insects section on our Visiting the Observatory page to familiarize yourself with adequate preparation measures.
Please note that we do not allow any white lights on our campus or in Ninigret Park from dusk - dawn, with the exception of low beam headlights while in motion. This is to ensure an equally awesome view of the night sky for all and to allow for the use of light sensitive astronomical equipment. Learn more about why we have this requirement in The Red Light District.