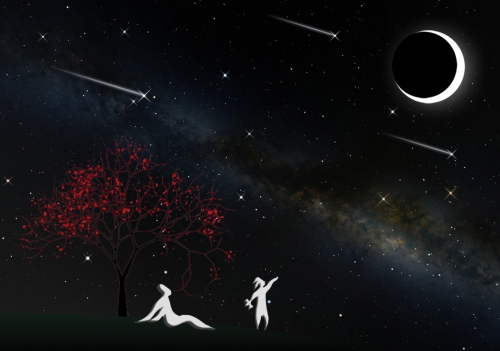 Stargazing Nights
Where:

Frosty Drew Observatory and Science Center

When:

Fri, May 19, 2023 8:30 pm - 10:30 pm

Cost:
Welcome to the Frosty Drew Observatory Stargazing Nights! Every Friday night (weather permitting) we open our Observatory, Science Center, Sky Theatre, and telescopes to the skies and offer free stargazing and astronomy to anybody interested in observing with us.
Tonight's forecasts are calling for mostly cloudy sky conditions to clear out later this afternoon. There is a lot of variability in the forecast models for this evening, though most are calling for mostly clear to partly cloudy sky conditions. We expect that we will have a good window of viewing during our stargazing hours. With the new moon occurring today, the clearer the sky, the better, though Venus always benefits from a bit of cloud cover. So we may see a great night tonight.
We'll open the Observatory, Courtyard, Science Center, and Sky Theatre at 8:30 pm. In the Observatory, the 24 inch telescope will show off Venus' 58% waning gibbous phase. Once twilight wanes, we will direct the big telescope towards the Messier 3 globular star cluster, Sombrero Galaxy, and more. Courtyard telescopes will showcase binary star systems until twilight wanes, followed by a series of star clusters and galaxies. In the Sky Theatre, we will show our regular feature of celestial objects photographed at Frosty Drew Observatory. The Science Center will feature exhibits and select astro images from our astronomy team. We'll close up at 10:30 pm.
Overall, tonight looks like it may be excellent. If making the long drive, it should be noted that we do have a credible threat of clouds, and we are basing our optimism on several forecast sources that are calling for clouds to move out for a few hours. Of course, it could end up cloudy, but variability often favors us in Ninigret Park. Since it is a new moon, we think you should give it a shot, and swing on over to the darkest spot in Rhode Island for a night with the cosmos.
Tickets are not required for visitors to attend this event.
If you are looking for that awesome astronomy thing to do or just want a night out to experience the cosmos under the darkest skies in Rhode Island, then this is your chance.
Take a moment to catch up on some upcoming astro events and space based happenings in:
A Celebration of Space - May 19, 2023
Be sure to subscribe to the Frost Drew Observatory mailing list, follow us on Twitter (@FrostyDrewOBSY) or on Facebook to receive status updates about our Stargazing Nights program and more.

Preparing for Your Visit:
Check out our page on Visiting Frosty Drew Observatory to learn more about what to expect at the Observatory and better help you prepare for your visit.
How to Prepare for Springtime Conditions: The Frosty Drew Observatory is located inside Ninigret Park and borders the Ninigret National Wildlife Refuge. Insects and arachnids are a concern when visiting the Frosty Drew campus. We have observed mosquitoes, green head flies, deer flies, ticks, biting ants, and more. Please read the Mosquitoes and Insects section on our Visiting the Observatory page to familiarize yourself with adequate preparation measures.
Please note that we do not allow any white lights on our campus or in Ninigret Park from dusk - dawn, with the exception of low beam headlights while in motion. This is to ensure an equally awesome view of the night sky for all and to allow for the use of light sensitive astronomical equipment. Learn more about why we have this requirement in The Red Light District.