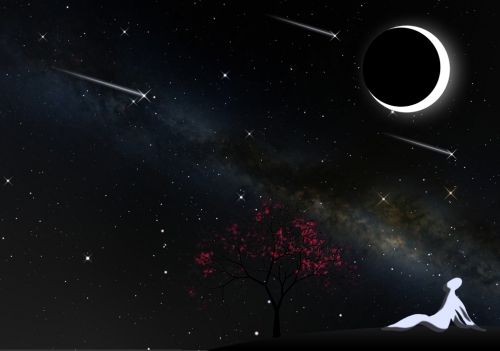 Summer Stargazing Nights - CLOSED
Where:

Frosty Drew Observatory and Science Center

When:

Fri, Jul 7, 2023 - CLOSED

Cost:

This Event has been Cancelled Please read below.
Welcome to the Frosty Drew Summer Stargazing Nights! Every Friday night (weather permitting) we open our Observatory, Science Center Sky Theatre, and telescopes to the skies and offer free stargazing and astronomy to anybody interested in observing with us.
Tonight's forecasts are calling for mostly cloudy conditions with fog setting in later this afternoon. Eventually the sky will become overcast. Considering that it will be very humid on site today, we are quite certain that fog will become an issue very quickly this afternoon. Sadly, we would have had a stunning night of dark sky conditions considering that the 76% waning gibbous Moon does not rise until 11:38 pm, which would have allowed for fantastic views of the Milky Way. In any case, clouds and fog will make the sky unobservable with our telescopes, so we will stay closed tonight. 2023 has been a tough year for Frosty Drew with so many nights being clouded, fogged, smoked, and hazed out. We are on track for a record year of closed nights, but we remain hope that this trend will break soon.
We are also planning to host our first Celebrate the Milky Way event of 2023 tomorrow night (Saturday, July 8), which are the nights when we think the Milky Way will be in best viewing at Frosty Drew. Sadly, that event looks to be overcast with fog as well. We'll make the final call on that event tomorrow. Check in on our event page for updates.
In the meantime, stay cool or enjoy the summer heat, if that is your dig.
Take a moment to catch up on some space happenings this week in:
A Celebration of Space - July 7, 2023
Be sure to subscribe to the Frost Drew Observatory mailing list, follow us on Twitter (@FrostyDrewOBSY) or on Facebook to receive status updates about our Summer Stargazing Nights program and more.
Preparing for Your Visit:
Check out our page on Visiting Frosty Drew Observatory to learn more about what to expect at the Observatory and better help you prepare for your visit.
How to Prepare for Summertime Conditions: The Frosty Drew Observatory is located inside Ninigret Park and borders the Ninigret National Wildlife Refuge. Insects and arachnids are a concern when visiting the Frosty Drew campus. We have observed mosquitoes, green head flies, deer flies, ticks, biting ants, and more. Please read the Mosquitoes and Insects section on our Visiting the Observatory page to familiarize yourself with adequate preparation measures.
Please note that we do not allow any white lights on our campus from dusk - dawn. This is to ensure an equally awesome view of the night sky for all and to allow for the use of light sensitive astronomical equipment. Learn more about why we have this requirement in The Red Light District.